Good Friday and Easter Sunday for some may involve church, bonnets, and chocolate bunnies, but in Louisiana it also usually includes a good old-fashioned Crawfish Boil.
Hams and pork loins will be studded, glazed, and stuffed, awaiting Uptown ovens. Bundt cakes baked, brownies cut, and eggs dyed. Someone's great-aunt will lobby to bring the macaroni and cheese, while another tries to control the dinner menu (this is why they invented wine).
To-Do lists already read "Make Deviled Eggs" and "Prep Bloody Mary Mix". For others, reservations and catering are scheduled—or about to be. No doubt Langenstein's will be hopping and OpenTable booked solid.
But it's what's happening in the courtyards and patios of New Orleans that takes precedence during Lent and on Good Friday—and even on Easter Sunday. Lent and the Catholic traditions abstaining from meat are held especially dear in New Orleans even for non-Catholics.
How does the basic New Orleanian bear the deprivations of Lent? We throw parties: parties laden with Étouffée, Gumbo, Fried Catfish, Shrimp Creole, and CRAWFISH!
Some might say we do things a bit differently here. But, if it's Good Friday in NOLA and most of southern Louisiana, some things are constant. Mama may be shopping for that forgotten last-minute menu item. Grand-Mère may be rearranging the table, but it's most likely Paw-Paw is outside checking the gas lines.
Chores include setting up construction horses and plywood buffet tables. Old newspapers aren't recycled. Instead, they become makeshift patchwork tablecloths—with a few bricks as paperweights. Neighborhood children help the entire process by holding crawfish races.
You can expect to see red sacks of live crawfish riding up and down Magazine Street in pick-up truck beds right next to the iced kegs of Abita. It's also likely someone will be in charge of running to grab bags of ice and the ubiquitous red cups. All of the above and more equals Springtime in New Orleans.
I think the perfect Crawfish Boil recipe is from Chef John Folse, the smoked sausage and whole artichokes earn it top ratings. Adding a few crates of whole button mushrooms doesn't hurt.
See here: FolseCrawfishBoilRecipe
John Folse's Crawfish Boil Recipe
Prep Time: 1½ Hours
Yields: 12 Servings
Ingredients:
35 pounds live washed crawfish
water
1 (4.5-pound) bag Louisiana Fish Fry® Products Crawfish, Crab and Shrimp Boil
12 medium onions, quartered
6 heads garlic, split in half, exposing pods
1 dozen lemons, quartered
1 bunch celery, chopped
2 cups granulated garlic
8 ounces celery salt
1 (8-once) bottle Louisiana hot sauce
1 cup vegetable oil
2 (12-ounce) bottles Abita® Amber beer
24 medium red potatoes
6 whole artichokes
3 pounds smoked sausage
12 ears of corn
1 (5-pound) bag ice
Method:
NOTE: Live crawfish may be purchased already washed from your seafood supplier. However, a second rinsing in cold water will not hurt. The purging of crawfish, that is, washing the crawfish in cold salted water, has been found to be useless other than to place the animal under unnecessary stress. So forget the purging–rinsing in cold water will suffice.
I recommend measuring the water by placing live crawfish in a cooking strainer fitted for the crawfish boiling pot. Place strainer with crawfish inside the pot and fill with water to cover crawfish by approximately 6 inches. Visually mark this volume because this indicates how much water will be needed to boil the crawfish.
Remove the strainer, set crawfish aside, and refill the pot with clean water to the same level. Bring water to a rolling boil over high heat. Add onions, garlic cloves, lemons, celery, granulated garlic, celery salt, Louisiana Fish Fry® seasoning, Louisiana hot sauce, vegetable oil and beer. Allow mixture to boil for 30 minutes. This boiling of the seasonings will ensure a great flavor.
Add potatoes, artichokes and sausage, return to a rolling boil and cook 10–12 minutes. Add corn and cook 10 additional minutes.
Add crawfish and return water to a rolling boil. Stir gently and cook for 3½ minutes and then turn off heat. Stir gently 2–3 times then add ice.
The ice will cool the water slightly and allow the crawfish to absorb seasoning. Let crawfish soak 25–30 minutes, testing occasionally for seasoning and doneness.
Do not allow crawfish to overcook otherwise the tail meat may become mushy. Crawfish should be served hot with potatoes, artichokes, corn and pitchers of ice-cold beer.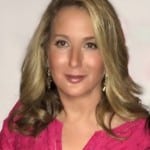 Kristine Froeba is a fourth generation Uptown girl whose varied background includes food and travel writing, celebrity ghost writing, public relations, social media management, fundraising, preservationist, reluctant tabloid hack, and litigation specialist. She describes herself as part foodie, part writer, part historian, historic renovation zealot, and full time dabbler.