This is the year of the homemade King Cake.
Locals are trying their hand at baking the glittery tradition at home for Mardi Gras. Many of our best chefs are also sharing homemade King Cakes and their recipes with a lucky few. These are not restaurant recipes; this is what is served on their own tables. Recipes can be original, complicated, easy, or from known cookbooks. The doughs may be dissimilar, but the toppings are always a dusting of sparkling purple, green, and gold.
As to whether to braid or not to braid or to honor tradition with the plain French bread type of batter is the question home chefs are debating. Some prefer a cinnamon roll center, some more of a brioche texture; some prefer a moist cake. Fillings are optional but more advanced for the home cook. However, regardless of technique or preference, locals are having fun with the idea.
Of course, King Cakes are available for purchase everywhere Uptown. Favorites include Sucré: A Sweet Boutique, La Boulangerie, Gracious Bakery, O'Delice French Bakery & Patisserie, Breads on Oak, Maple Street Patisserie, Tartine, Haydel's Magazine pop-up, Toast, and even Whole Foods, Rouse's, and Breaux Mart. Shaya is even offering a Babka King Cake on special order. However, this carnival season, many New Orleanians are baking and sprinkling themselves.
My sister, Ligny Hunter, a trained pastry chef in her own right, went old school and used an easy–to her–Betty Crocker recipe. Yes, Miss Crocker actually includes a King Cake recipe in her online repertoire–and it tasted both authentic and quite good if you crave the cinnamon roll variety: bettycrocker.com/recipes/quick-mardi-gras-king-cake
James Karst, an editor at the Times-Picayune, published a historic Twelfth-Night King Cake recipe last year. Many home chefs rose to the occasion and tried it. Chef Mary Sonnier was one who saw the recipe, accepted the challenge, and recreated 1897 culinary history – literally in her kitchen. The results were amazing, and for the home chef, perhaps a tad daunting, but worth a try for any food historian. Filling in the blanks regarding unfamiliar ingredients and instructions found in a historic recipe can be a challenge. Chef Mary Sonnier's Twelfth Night Cake photos are on the right; the historical recipe is here: mardigras.com/news/2016/01/1897_twelfth_night_cake
Chef Greg Sonnier, of Gabrielle fame, and Mary's husband, shares one of his personal King Cake recipes below. The Sonniers are ardent Mardi Gras participants and entertainers. They are also connoisseurs of local King Cakes. But, even Greg was home last week cooking his own King Cake. He states it's an easier hybrid recipe than most out there – and I agree. Sour Cream and Cream Cheese add richness, as the ingredients suggest. It also happens to be delicious.
Note: Buy your sugar sprinkles first! No clue as to where to find miniature plastic babies. You're on your own. Go old school. Bake a red bean in the cake.
Chef Greg Sonnier's King's Cake
Ingredients
1 (16-ounce) container sour cream
3/4 cup sugar
1/4 cup butter
1 teaspoon salt
2 (1/4-ounce) envelopes active dry yeast
1/2 cup warm water (100° to 110°)
1 tablespoon sugar
1 tablespoon cinnamon
2 teaspoons Fiori di Sicilia
2 large eggs, lightly beaten
6 to 6 1/2 cups bread flour*
3/4 cup light brown sugar
2 (8-ounce) packages cream cheese, softened
2 teaspoons almond extract
1 large egg
2 teaspoons vanilla extract
Creamy Glaze
4 cups sifted powdered sugar
1/2 cup heavy cream
1 tablespoon vanilla extract
Purple-, green-, and gold-tinted sparkling sugar sprinkles*
Procedure
Cook first 4 ingredients in a medium saucepan over low heat, stirring often, until butter melts. Set aside, and cool mixture to 100° to 110°.
Stir together yeast, 1/2 cup warm water, and 1 tablespoon sugar in a 1-cup glass measuring cup; let stand 5 minutes.
Beat sour cream mixture, yeast mixture, cinnamon, Fiori di Sicilia, eggs, and 2 cups flour at medium speed with a heavy-duty electric stand mixer until smooth. Reduce speed to low, and gradually add enough remaining flour (4 to 4 1/2 cups) until a soft dough forms.
Turn dough out onto a lightly floured surface; knead until smooth and elastic (about 10 minutes). Place in a well-greased bowl, turning to grease top.
Cover and let rise in a warm place (85°), free from drafts, 1 hour or until dough is doubled in bulk.
Punch down dough, and divide in half. Roll each portion into a 22- x 12-inch rectangle. Beat 3/4 cup sugar, cream cheese, 1 egg, almond extract and vanilla at medium speed with an electric mixer until smooth. Spread cream cheese mixture evenly on each dough rectangle, leaving 1-inch borders.
Roll up each dough rectangle, jelly-roll fashion, starting at 1 long side. Place one dough roll, seam side down, on a lightly greased baking sheet. Bring ends of roll together to form an oval ring, moistening and pinching edges together to seal. Repeat with second dough roll.
Cover and let rise in a warm place (85°), free from drafts, 20 to 30 minutes or until doubled in bulk. Bake at 375° for 14 to 16 minutes or until golden.
Creamy Glaze
Slightly cool cakes on pans on wire racks (about 10 minutes).
Whisk powdered sugar, cream and vanilla extract together until smooth. Drizzle Creamy Glaze evenly over warm cakes; sprinkle with colored sugars, alternating colors and forming bands. Let cool completely.
* Mardi Gras Colored Sugars are sold at Szabo`s, 1704 Franklin, Gretna, LA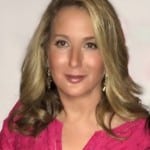 Kristine Froeba is a fourth generation Uptown girl whose varied background includes food and travel writing, celebrity ghost writing, public relations, social media management, fundraising, preservationist, reluctant tabloid hack, and litigation specialist. She describes herself as part foodie, part writer, part historian, historic renovation zealot, and full time dabbler.