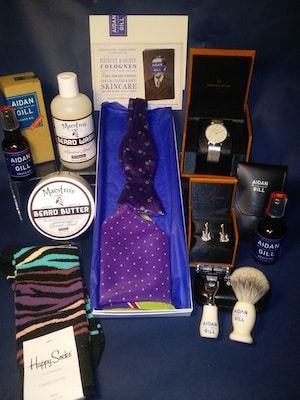 At Aidan Gill For Men, you'll find the perfect Valentine's Day gift for the man in your life with impeccable taste.
Here, we have the finest shaving products in the city and a wide variety of neckties, watches, and accessories.
Because nothing compares to the experience of an Aidan Gill shave, gift certificates are also available. Visit Aidan Gill For Men in the Lower Garden District at 2024 Magazine Street or in the Central Business District at 550 Fulton Street.
Gift options are abundant at Aidan Gill For Men, starting with the beautifully-crafted Travel Mach 3 Razor & matching Brush that meet the standards of our internationally-acclaimed shave. For the bearded fellows, we offer the best care option with Maestro's Beard Wash & Beard Butter.
The shop also boasts apparel and accessories such as bow ties befitting a man who sports an Aidan Gill shave, books on topics from local to international interest, cuff links, and more classic style items. Here are a few ideas:
Happy Socks                                        $12.00
Maestro's Beard Wash                           $24.00
Maestro's Beard Butter                           $24.00
Aidan Gill for Men Pre-Shave Oil             $25.00
Carrot & Gibbs Pocket Square                  $52.00
Lee Allison Bow Tie                                 $60.00
Aidan Gill for Men Travel Brush               $60.00
Aidan Gill for Men Travel Mach 3 Razor   $70.00
Simon Carter Cuff Links                         $110.00
Simon Carter Watch                              $275.00
Aidan Gill for Men Gift Card          (good for any amount)
Aidan Gill For Men
"Rescuing the barbershop from extinction, one shave at a time."
2024 Magazine St.
550 Fulton St.
Shop online at aidangillformen.com