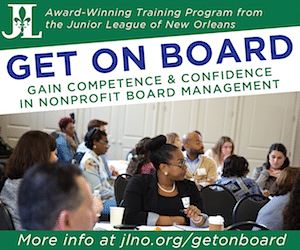 Could you or someone you know benefit from a training program designed to develop and enhance leadership skills? Are you affiliated with an organization that needs qualified leaders on its Board of Directors?
The Junior League of New Orleans (JLNO) is once again bringing its award-winning Get On Board training program to energetic individuals who want to improve Metropolitan New Orleans. Interested individuals and organizations can apply until Monday, January 23.
Get on Board will be two consecutive Saturdays in 2017 (February 4 & 11, 2017) from 8:30 am to 2:30 pm. Workshop topics include:
Financial policies and fiduciary duties
Legal considerations
Meeting and committee management
Strategic planning
Effective leadership
The two-day workshop is open to current and future nonprofit board members. At the conclusion of the program, JLNO will connect attendees with organizations seeking board members.
Leaders of nonprofit organizations must maximize resources, fundraise, plan for sustainability, and strategically partner for success. Gain knowledge and confidence to run an effective nonprofit through the Get on Board program from the Junior League of New Orleans.
To register or to find out more, visit our site here.