When you consider McGehee, think about the girl who comes here… and the leading woman who will graduate. A McGehee girl: acts her age, thinks for herself, is fearless, takes a stand, makes better choices. A McGehee girl leads. Visit and see for yourself.
Join us for an upcoming admission open house and experience the magic of McGehee. To register please email: admissions@mcgeheeschool.com You may also call our Admission Office at 504-561-1224 to schedule a private tour of our school.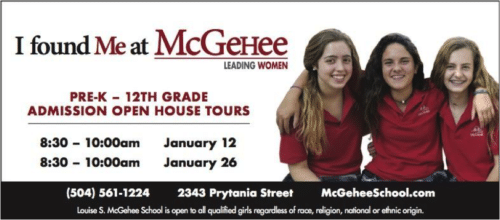 Who We Are: For over a century now, the Louise S. McGehee School has graduated young women who know what it means to be Leading Women. Our girls are ready to take charge of their futures thanks to our small class sizes, academic rigor, experiential learning and our focus on the individual girl. At McGehee, we prepare each student for her unique journey amidst a climate of innovation rooted in tradition.
How We Teach: Our extraordinary faculty respects the way girls learn and teaches with a curriculum that goes beyond the walls of the classroom. Each girl is encouraged to succeed by harnessing her potential, finding her voice, taking risks and delivering her best. Faculty member Catherine Cresson says it so well in this video:
"Sometimes I think I could be doing cancer research and making new discoveries, but then I think if I were in the lab doing research my scope would be so much more limited. Every year I can teach girls that they can be research scientists, be innovators, be doctors, do amazing things."

CATHERINE CRESSON, PhD, CHEMISTRY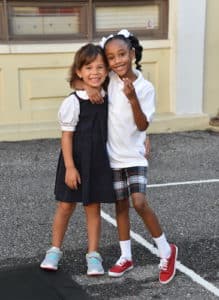 McGehee is an all girls', independent, college preparatory, non-sectarian school for girls in grades Pre-Kindergarten through Grade 12. We are a school of girls for girls. Our students understand that they can do anything because here girls fill every role – student body president, math whiz, sports star, lead in the play and valedictorian.
We are small by design yet our accomplishments are big. Come tour our campus to learn more about McGehee Leading Women.
Louise S. McGehee School is open to all qualified girls regardless of race, religion, national or ethnic origin.