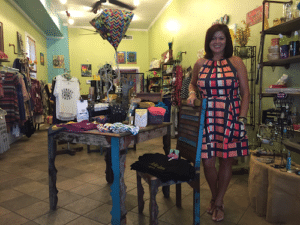 Recently celebrating its one year anniversary, Heart and Sole is gaining popularity in the boutique scene. The shop, located on Prytania Street, is just a stone's throw from the great eateries and entertainment in the area. You'll find the perfect opportunity to knock out some early holiday shopping, and make sure to shop their local goods section!
Name Donna Wilhelm
Store Heart and Sole
Since Summer 2015
What ignited the spark in you to start your business?
I've been in retail since I was a teenager and I've always just loved it. I remember being in school and dreaming what my store would look like one day—even drawing it out! It has always been a dream of mine, so finally I just decided to do it.
What makes New Orleans businesses so special?
I have a lot of people who come into the store and they look around and say it is really unique and special. Even tourists from New York, where they have so many retail and boutique options, come here and say it's one-of-a-kind (referring to my space and other New Orleans businesses). New Orleans businesses really capture the uniqueness and down-home feel of the city.
Who are your customers?
I get many different students from the surrounding area – from high school students that save up their babysitting money, to Tulane and Loyola students. Quite a few tourists and folks who just finish eating in this area and like to hang around for a bit longer. And then, a lot of neighborhood people come in, even grandmothers!
If your shop was a cocktail, what would it be?
I love cocktails and I love trying new things. I'm really into Mojitos right now and I had a Passion Fruit Mojito recently. I think it's very accurate for the store because I am very passionate with what I do and they are fun, refreshing, and colorful.
Describe your business in a few words.
Very eclectic, fun, and trendy styles. Everything I sell is something I would wear myself.
What's your favorite local biz in your area?
My most favorite is Hansen's Snowballs. I love to get the half ginger cayenne and half chocolate. It's spicy, chocolaty deliciousness.
Will you share your secret lunch or dinner spot?
I have a few: Katy's in Mid-City is great; Roux Carre on O.C. Haley is delicious and almost a secret spot; and lastly Casa Borrega has really great drinks!
What advice would you give a budding business owner?
The biggest one, is to be patient. Also, when you think you have enough in savings, save twice as much, because it goes fast. Lastly, find balance in spending your funds to beautifully design your space and offering a nice variety of items.
Your shop is a new addition to the crayon box. What color would it be and why?
My color would be Passion Fruit. Although there are similar colors around it, it is very beautiful and hasn't made it into the crayon box yet.
Since you have just celebrated your one year anniversary (CONGRATULATIONS!), what upcoming and future goals do you have for the shop?
A lot of people still don't know that I'm here, so I would love it if people knew that! I get a lot of tourists that come in, but I may not ever see them again, so I am working to expand out to the locals so they know that I am here. My goal is to be the boutique of choice…And to not go bankrupt.
How do you define "success" in your business?
I'm not trying to get rich off this…I just want to be comfortable and be able to pay my bills. For my one year anniversary, a sweet lady delivered a box of chocolates from Manhattan Jack and the most personal, heartfelt message, expressing that she is so glad I'm in the neighborhood. To me, that's success.
Also, when I get guests that come in from out-of-town or out-of-state because their friend told them that they must visit this great, new boutique on Prytania Street and they show up, that's definitely another way I view my business being successful. Lastly, I try to sell as much local stuff as possible; we carry local jewelry, art, and other merchandise; contributing back to our local artisans and talent that supports us.
Heart & Sole
5014 Prytania
facebook.com/heartandsolenola
While drainage system improvements and road construction make "shopping local" a bit more challenging in the short term, the critical improvements mean our city will be safer and stronger for generations to come. We hope you are inspired and continue to shop small and shop local—even if it takes a little extra time!
The Shopkeeper Stories are brought to you by StayLocal, the Greater New Orleans independent business alliance, in partnership with NOLA Messenger. Learn about their work or become a member at www.staylocal.org or emailinfo@staylocal.org.