With today's election being such a spectacle for the past few months, and a race that is reportedly very close, America's next four years will be decided and revealed tonight. With such angst and uncertainty across the nation, local businesses and others are coming together to watch the election results, mostly over drinks and more drinks. Here's a quick list of places having Election Watch Parties in Uptown.
Prytania Bar – Election Day Erection
3445 Prytania St.
Tuesday, 11 a.m. to Wednesday, 1 a.m.
"On Tuesday, November 8th, America will choose our new President.  No matter who you vote for, you'll need a drink. Trust us. Go Vote. Come Drink!
2-for-1 Draft
2-for-1 Liquor
2-for-1 Wine & Champagne
Just go vote. And then drink."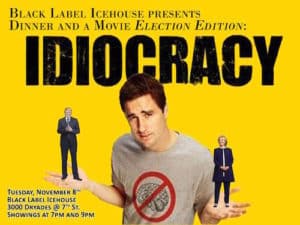 Black Label Icehouse – Dinner and a Movie Election Edition: Idiocracy
3000 Dryades St.
5 to 11 p.m.
"Black Label Icehouse presents Dinner and a Movie Election Edition: Idiocracy. Join us as we screen the foretelling cult classic while waiting for the actual POTUS results. There will be two FREE showings, 7 p.m. and 9 p.m.; as well as a menu and cocktail created for this most special occasion."
Jewish Community Center – Election watch party with BBYO!
5342 St. Charles Ave.
6 to 9:30 p.m.
"JewCCY and BBYO are coming together to watch the 2016 presidential election! Come join us at the Uptown JCC to watch the presidential election with other Jewish teens from the Big Easy! Food and drink will be provided, and there is no cost to attend!"
Notre Dame Seminary – Christ in the City: Southshore – Election Night
2901 S. Carrollton Ave
7 to 8 p.m.
"Come join us for time in prayer before the Blessed Sacrament for our state and our country at the Notre Dame Seminary Chapel. During the Holy Hour, there will be music, scripture reading and reflection, personal prayer time, the opportunity for the Sacrament of Reconciliation, and benediction. Deacon Colm Cahill will be presiding. A social will follow at Rock 'n' Bowl."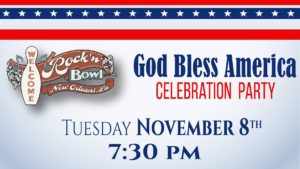 Rock 'n' Bowl – God Bless America Celebration Party
3000 S. Carrollton Ave
7:30 to 11 p.m.
"Celebrate Election Night at Rock 'n' Bowl! Live Music from THE TOPCATS, Johnny J & the Hitmen, Johnny Angel and Helldorado with special guests J. Monque'd & Glen David Andrews Band. Free Hotdogs, Jambalaya & Soft Drinks for all. Free Bowling & Admission for all Law Enforcement, Armed Services, 1st Responders & their families. $1 for the General Public"
Cooter Brown's Tavern – The Lens Watch Party
509 S. Carrollton
7:30 to 11 p.m.
"Join the staff of The Lens as we gather on Election Night for a nonpartisan watch party, and to see our one-of-a-kind precint-level map of the state take shape as returns come in. The event is open to the public (over 21 years old)."
Pete's Out in the Cold – Election Night Bingo
701 6th St.
8 to 10 p.m.
"You know you don't want to be alone as the results come in…so come on over to Pete's and join us for some election night bingo. It will be one for the record books."
Let us know where else you're watching the 2016 election results below.