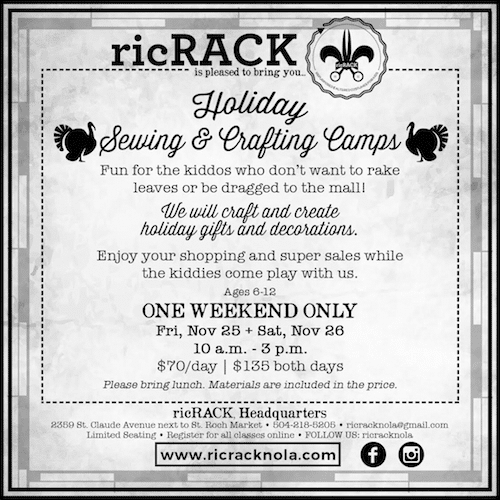 ricRACK is pleased to announce its Holiday Camps for Kids and sewing classes for adults at our new St. Roch Space!
Crafting Camps for Kids
Fri & Sat, Nov. 25 & 26, 10am to 3pm
We'll make holiday gifts and decorations with the kiddos while you work, shop, clean or relax! While you're out for Black Friday or Super Saturday, we'll be making some not-so-black decorations and some Super gifts!
All Supplies included! Bring lunch please.
UPDATE:  These camp dates just added Sun & Mon, Dec 18 & 19, same time/price.
$70/day or $135 for both days
Kendra's Chop Shop
Starts Tues, Nov. 29
Wondering what do with those old t-shirts and shrunken sweaters that you can't throw away?? Make some awesome holiday gifts at Kendra's Tuesday night and Saturday morning's Mother/Daughter Chop Shop!!
Our first class: Turn T-shirts into a tote Bag!
Bring your own clothes to chop, or we have extra.
$30/class or $100 for all four classes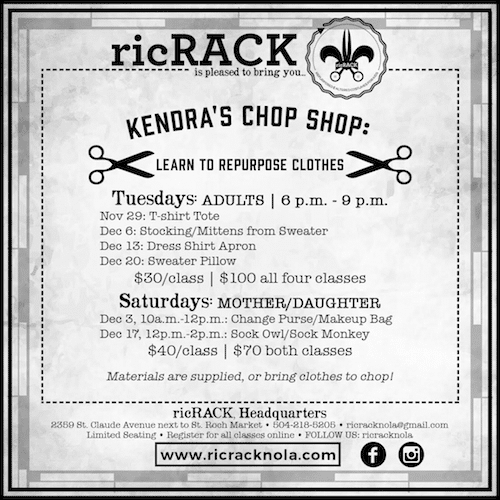 Know a Fashionista??
Starts the week of Jan 9.
Starting in January, we will be offering an 8 week Fashion Boot Camp. Learn to sketch, swatch, pattern, construct, and market the clothes of your dreams!! We are offering a teen class that will emphasize portfolio pieces and an advanced adult class with more emphasis on business.
Adults:  Thursday 6pm-9pm ($360)
Teens:  Saturdays 10a-1pm ($240)
Stop by and check us out or call with any questions:  504 218 5205.
2359 St. Claude Ave., next to the St. Roch Market.
We have a fun multi-purpose crafting room, a private sewing studio with industrial machines, and a huge sewing studio with tall cutting tables and all tools.
Need more space? We have hourly, monthly, and yearly memberships to all spaces!!
Expand your space: Expand your creativity!!
ricRACK also has fun time crafty parties for birthdays and special events!!
Of course, there's our monthly sessions of kids and adult sewing lessons, as well as our Friday night SipnSewnSip to guide you with your sewing projects.
NOLA is a town of crafters and sewists… Give the gift of creating… Gift Cards are available!
ALL registration info at:
ricracknola.com
facebook.com/ricracknola
Happy Holidays Ya'll!!