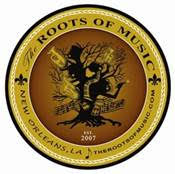 The Roots of Music, a New Orleans non-profit organization, will celebrate eight years of success with their annual fundraiser, "Band Together for The Roots of Music". The festive evening, scheduled for Saturday, October 22, will include "tantalizing bites, libations, a silent auction, and live entertainment, including a special performance by The Revivalists, NOLA's very own roots driven rock band currently claiming the #1 spot on Sirius XM's The Spectrum."The event takes place October 22 from 6 to 10 p.m. at Ashé Powerhouse, located at 1731 Baronne Street.
Additional festivities for the evening will include entertainment by The Roots of Music Marching Crusaders and alumni; craft beer from NOLA Brewing; cocktails and wine from JLHM; and culinary delights from Felix's and Stanley.
A limited number of general admission tickets, priced at $150 per person, are available for advanced purchase at www.therootsofmusic.org. Tickets will not be available at the door.
For further information on the event, email development@therootsofmusic.org.
The Roots of Music is a New Orleans non-profit organization dedicated to teaching, supporting and empowering New Orleans' youth through music education, academic support and mentorship, while preserving and promoting New Orleans' unique musical and cultural heritage.