The corridor of Jackson Avenue near Annunciation has its first restaurant in years, and it's a perfect fit for the neighborhood. Mason Hereford and Lauren Holton are the duo behind the new Irish Channel sandwich shop, Turkey and the Wolf. Hereford, former Chef of Coquette, and Holton, formerly of High Hat, have created a menu with southern soul and a dining room reminiscent of your grandmother's porch.
The restaurant is unique in that it is seen as a collaborative effort where all kitchen staff can contribute ideas and audition new dishes. That said, Colleen Quarls, also from Coquette, is the Chef de Cuisine and creator of most of the current menu. Hereford states, "the place wouldn't be what it is, without her." The owners plan to add and change out items bi-weekly. This week's additions include Tacos with Hogshead Cheese, Peppers, Valentina, and American Cheese on handmade tortillas.
A recent visit delighted my dining partner who ordered the Fried Bologna Sandwich. This is not the bologna of your youth; it's a thicker version from craft butcher Leighann Smith, formerly of Cochon. The sandwich is served with Hot Mustard, Shrettuce, and American Cheese on Thick Toasted White Bread. Other than the Bologna, the obvious favorite is the Chicken Fried Steak of New York Strip, Hot Pepper Jelly, Slaw, and Bird Sauce on White Toast. The Deviled Eggs with Hot Sauce and Fried Chicken Skins is also popular. Salads are available, such as the Cabbage with Chilis, Lime, Herbs, Fried Garlic, and Cracklin or the Blue Cheese Wedge topped with Bacon, Cherry Tomatoes, Bagel Crunchy Stuff, and Fresh Dill. I have to add my friend went a bit wild over her Wedge Salad and insisted I mention it.
The dessert menu also has some new additions, Brown's Dairy Soft Serve Ice Cream topped with large Key Lime Crumb Chunks. There are also the new baked Haydel's Handpies, here– deep fried then dusted with Powdered Sugar and served over Soft Serve. Hereford effused that, "the Cherry is off the chain." It was indeed a fun spin of the Hubig's pies of old. Hereford has a thing for savory and sweet, so his sofa favorite of Cheez-Its and Peanuts on Ice Cream is being translated as a new Ice Cream dessert of House Cheddar Crackers, Potato Chips, and Dry Roasted Peanuts atop Soft Serve. The menu is obviously meant to be fun, and it is.
The childhood yet gourmand food combinations can be enjoyed with a selection of wine, beer, and Craft Cocktails. Lauren Holton creates her drink menu with house made Elixirs, Shrubs, Tonics, and Syrups. The Cocktails are cleverly named, and a nod to bon mots Holton collects behind the bar. One can imagine, how, "Fred's In The Well" entered a conversation, "Daddy's Day Out," or "Bless Your Bones." A credit card rep recently admonished Holton with, " Ma'am, Don't Be Hysterical," the quote is now a mixture of Gin, Campari, House Blackberry Syrup, Lime, and Pickled Peppers. In NOLA, crazy is not surprising, but at Turkey & The Wolf, it may be immortalized in gin.
Hereford, who hails from Charlottesville, VA, says most of his inspiration is from his childhood. Sandwiches are his favorite food, and that's what he wanted to recreate at Turkey and the Wolf. It's a happy restaurant, and that's important to the owners. He also talks about his grandmother's Virginia corn pudding, apple fritters, and mac n' cheese. Hereford even laughs that the menu could be described as "elevated stoner cuisine." I'm eagerly waiting for their requisite version of Mac.
The dining room is casual, kid-friendly, and decorated with 50's dinette sets and ceramic salt and pepper shakers. The plates are a retro mismatch, and the vibe is cool. Hereford was quick to point out the new mural on the outside wall painted by local artist Kenny Cox – the art is an exact match to the wolf with turkey tongue tattoo Cox created on Hereford's arm. It's that kind of place.
Turkey and the Wolf
739 Jackson Avenue
New Orleans LA 70130
(504) 218-7428
turkeyandthewolf.com
Hours:
Monday 11 a.m. – 9 p.m.
Closed Tuesday
Wednesday through Saturday 11 a.m. – 9 p.m.
Sunday 11 a.m. – 5 p.m.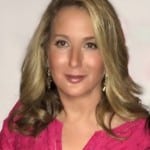 Kristine Froeba is a fourth generation Uptown girl whose varied background includes food and travel writing, celebrity ghost writing, public relations, social media management, fundraising, preservationist, reluctant tabloid hack, and litigation specialist. She describes herself as part foodie, part writer, part historian, historic renovation zealot, and full time dabbler.