There's a new Mexican joint in the historic Town of Carrollton. The Oak Street shopping district of yore continues its gentrification, with an influx of small businesses as the result. The street where we all bought our first pair of shoes at Haase's has come a long way. What was once then, a main shopping corridor, fell onto hard times, then a few shabby decades, followed by a post-Katrina renaissance.
Not far from the railroad tracks, replacing Squeal BBQ, is a new hipster restaurant, surely to be popular with locals and students alike.
Julia Street's La Casita So-Cal Tex-Mex Taqueria has opened a second location. The Mississippi natives-owned Warehouse District hotspot is now serving lunch and dinner in uptown's historic shopping district. The ambiance is chic enough for date night. The Bar is modern, and you can choose to dine there or at a table. Retro tunes are reminiscent of Mad Men. Do not expect a mariachi band.
Happy Hour two-dollar tacos are a big draw between 4 and 7 p.m. So are four-dollar fresh fruit, fresh juice, and agave nectar Margaritas such as Watermelon Habanero and Pineapple Cilantro. The Strawberry Margarita is spiced with Jalapeño slices. Ginger Mint is also a choice. Head bartender, Steven Hopkins, is proud of his craft and defiantly anti-mix. I'll be back to sample the Serrano version. While waiting for cocktails, do order the spicy Flame Torched Green Onion appetizer of Cebollitas.
The Guacamole and Tres Quesos, with diced Serrano Peppers, are classic Texican, as is the mojo style Salsa de Julia. There is a daily house made Habanero and Salsa Verde Sauce. The chips are also made in house. The menu offers latitude with customized additions including Ancho Crema, Radishes, Cabbage, and Chilies. Carnitas, Shrimp, Chicken and Beef can be added to the Tres Quesos.
The El Fuego Brisket Taco or Burrito are the hands down best sellers. Look for Spiced Brisket, Pico de Gallo, Salsa Verde, and Torched Monterey Jack Cheese on this house favorite. Manager, Matthew Boudousquie' is addicted to another Burrito, the Papas Y Chorizo House Burrito of sautéed ground Chorizo, Potatoes, Cilantro, Onions, and Chipotle Crema. Other House Specialty Tacos or Burritos choices are Slow Roasted Pork, Shrimp, Skirt Steak, Vegetable, Catfish, Beef Cheek, and Grilled Chicken. The Coctel de Camaron or Mexican Avocado Shrimp Cocktail was generous, but the shrimp were a tad bland for a local. I added Habanero.
There's a Pork & Sweet Potato Quesadilla I didn't try but is on my list for the future.
The lunch crowd can find salads. Vegan and Gluten free selections are well represented. Mexican beer is served. La Casita Taqueria plans to offer Al Fresco dining in the near future. I really wanted the Watermelon Margarita, but the melons hadn't arrived yet. Next time.
La Casitas Taqueria
8400 Oak Street
New Orleans, LA 70118
(504) 826-9913

Happy Hour Daily 4 to 7 p.m.
Hours: Tuesday through Sunday 11 a.m. – 9 p.m.
www.eatlacasita.com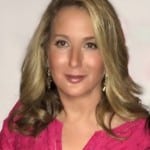 Kristine Froeba is a fourth generation Uptown girl whose varied background includes food and travel writing, celebrity ghost writing, public relations, social media management, fundraising, preservationist, reluctant tabloid hack, and litigation specialist. She describes herself as part foodie, part writer, part historian, historic renovation zealot, and full time dabbler.