The Magazine Street Merchants Association will host its annual Cool Down Block Party from 5 to 10 p.m. on Friday, July 29. The event will include food, music, trunk shows, and specials from some local businesses.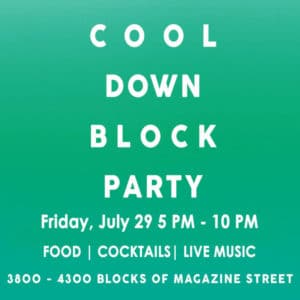 The Cool Down Block Party will take place between the 4100 and 4300 blocks of Magazine. The event is free and open to the public, and children and dogs are welcome.
Participating businesses will serve food and drinks, host in store events, sales, and trunk shows. Unique to this year, a roaming six-piece jazz band of St. Aug alumni, dubbed Knockaz, will provide live, local music.
This year will also see the debut of a marché (market) of other Magazine Street businesses from other blocks on Magazine Street. These businesses will be selling their wares pop-up style in the Sherwin Williams parking lot at Magazine & Milan Streets.
Fore more information, see the event page here.