By Lindsay Caton for UptownMessenger.com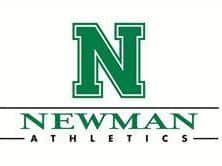 The Isidore Newman School boys' soccer team dominated Westminster Christian Academy with a 4-1 final score on Tuesday, ending the Crusaders' seven-game win streak and advancing to the next round of the Division IV playoffs.
The Greenies looked solid on both offense and defense in the first half. They came out firing, and would see quick results with a great cross from Sam Moses to Evan Deblanc for their first score.
Westminster's offense couldn't get anything going against Newman's tough defense through the first half, and Newman would struck again at the 27-minute mark. A great shot from the 30-yard line by William Reynoir put the Greenies ahead 2-0.
While Westminster's defense struggled to stop Newman's attack, their keeper was able to show his talent, making impressive saves one after the other to keep his team in the game.
The game began to get more physical as Westminster's frustration grew. Both teams would end the first half with a player receiving a yellow card.
A late goal in the first half by Evan Deblanc would put Newman ahead 3-0 at halftime.
The second half saw a more balanced game. The visitors from Opelousas came out with a strong offensive push, but Newman's stingy defense would not let them score.
A Newman foul just outside their own penalty box set up a great scoring opportunity for the Crusader's, but they were not able to capitalize on the opportunity.
Both teams were scoreless in the second half up until the 3-minute mark when a goal by Thomas Stall would put the Greenies up 4-0.
Newman coach Matthew Jacques was proud of his team but wants to see them perform better in the second half.
"We tend to get a little too complacent in the second half the last couple games," he said. "We've gotten up early big in the first half the last two games. We've got to make sure we finish out the game like we need to."
A penalty in stoppage time gave the Crusaders a penalty kick. Joshua Hughes made the kick, Westminster's only goal, ending the game with a final score of 4-1.
Newman faces Episcopal of Acadiana on Saturday, February 20.
Lindsay Caton is a freelance reporter based in New Orleans.