NOLA Messenger is proud to be an independent, New Orleans-owned and operated media company that has supplied quality news about the community to the community for five successful years. Now, you can help support our reporting in your neighborhood — and show some love for your favorite neighborhood news site — by purchasing from our new line of merchandise.
We're starting with men's and women's fitted T-shirts, as well as coffee mugs for those who enjoy reading the news with a hot drink. Not only are these products attractive (and made for us locally!), they are also a way for our readers to show support for the site and directly help out our reporting efforts. The proceeds from merchandise sales will directly allow us to increase our news coverage of the Uptown and Mid-City communities and the New Orleans area overall. And by wearing one of our shirts or using one of our mugs, you are helping promote your favorite news site to new readers.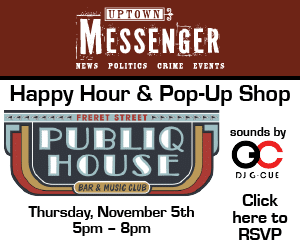 Our products will mostly be made-to-order and are available for pickup locally at our Happy Hour & Pop-Up Shop. This will be Thursday, Nov. 5, from 5 p.m. to 8 p.m. at Publiq House, 4528 Freret Street. Pickups will be available at our office from 5 p.m. to 8 p.m. on Mondays thereafter.
Click the image to the left to RSVP for the happy hour, and visit our full store here. As always, thank you for your support, and we look forward to seeing you on the 5th!
– Robert Morris & Tyree Worthy, UptownMessenger.com