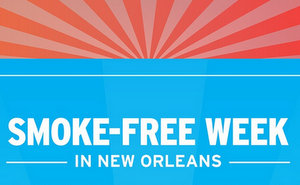 An array of Uptown bars including Barrel Proof, the Maple Leaf and Tracey's will be hosting events and participating in Smoke-Free Week this week, and City Councilwoman LaToya Cantrell will host a town-hall meeting on the subject Wednesday at Carrollton Station.
For details, see the following information from the Healthier Air For All website:
The Healthier Air for All Campaign is partnering with Councilmember LaToya Cantrell's office to bring Smoke-Free Week to New Orleans from Monday, July 21 to Friday, July 25, 2014!

Over 100 bars in New Orleans have already voluntarily chosen to go 100% smoke-free. During Smoke-Free Week, we are encouraging even more bars to go smoke-free and "Join the Movement" for cleaner, healthier, smoke-free air in New Orleans.

This week will feature several special events, including a Smoke-Free Week kick-off celebration, smoke-free nights and/or happy hours at different bars around the city, and a party to close out the week, New Orleans-style!

Featured events include:
MONDAY, JULY 21: Kick-Off Party with the 610 Stompers at The Rusty Nail. 6pm – 8pm.
TUESDAY, JULY 22: Smoke-Free Young Professionals Networking Event at Barrel Proof. 5:30pm – 7:30pm
WEDNESDAY, JULY 23: Town Hall Meeting at Carrollton Station. 3:30pm – 5:00pm
FRIDAY, JULY 25: Finale Party at The Maple Leaf. Doors open at 3:00pm

Thank you to other participating bars, including:

Dragon's Den
Finn McCool's
Hi-Ho Lounge
Maison
The Maple Leaf – The Maple Leaf will not only host our Finale Party, but will be smoke-free all week long.
Siberia – Siberia will be smoke-free all week (Monday-Friday) from 4pm-9pm!
Treo
Tracey's
Victory
Vine & Dine – Vine and Dine is hosting "Smoke'n Hot" Happy Hour from 4pm-6pm on Thursday, July 24th. It will feature half-priced house wines ($3) and a specialty Smoke'n Pizza with chorizo, black beans & pepperjack cheese for $14.

We would also like to thank our partners who are helping to make this week a huge success: Councilwoman LaToya Cantrell, WWOZ, & The Louisiana Cultural Economy Foundation.