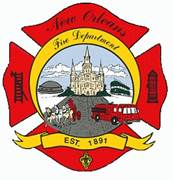 Seven people lost their homes early Wednesday morning in a fire that started in a Cadiz Street apartment house and spread to the building next door, but no one was harmed in the blaze, New Orleans fire officials said.
The New Orleans Fire Department began receiving calls about the fire at 823 Cadiz Street at 3:14 a.m. Wednesday (July 9), and when firefighters arrived on scene eight minutes later, they found the blaze "heavily involved with fire spread to an adjacent building," according to a NOFD news release. Firefighters searched the building to make sure everyone got out safely, the release states.
"One resident stated he woke up and noticed the fire through his window and it was so hot he had trouble getting past it," the release states.
A total of 61 firefighters were ultimately involved in fighting the fire at the two buildings, the two-story four-plex apartment house at 823 Cadiz and the family sheet metal business with two apartments above next door, the department wrote. No injuries were reported, though seven people in five families were displaced by the blaze.
"Our firefighters did a fantastic job containing the fire to the two original structures," said Superintendent Tim McConnell in the news release.
The original cause of the fire remains under investigation, but "delayed detection caused the greatest extent of this fire," the release states.
"The New Orleans Fire Department would like to remind residents of Orleans Parish that the New Orleans Fire Department will supply and install smoke detectors for residents in need," the release states. "Orleans residents in need of smoke detectors can stop by their area fire station to make the request or visit www.nola.gov/nofd to sign up online."