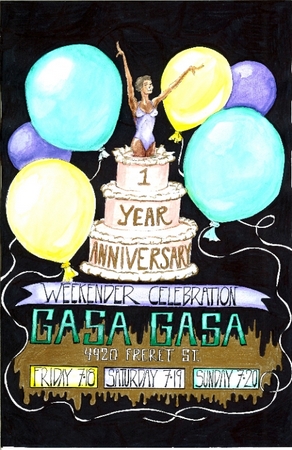 Gasa Gasa will celebrate its one-year anniversary on Freret Street with an art show, barbecue and live album recording, and Freret residents will receive a 10-percent discount on their bar tabs all weekend.
The party will kick off Friday at happy hour, followed by a show from Brian Hyken and the Wanderlust. On Saturday, the art market will begin at 2 p.m., followed by Tank and the Bangas' live album recording featuring Big Freedia as a special guest. On Sunday, the barbecue will begin at 2 p.m., followed by performances by The Kid Carsons, The Sirens and Valeria Sassafrass.
"Any Freret Street n'hood resident (Claiborne to St. Charles, Milan to Jefferson) that presents valid photo ID showing an address within these boundaries received 10% all drinks / bar tabs starting during Happy Hour this Friday, July 18 (5pm – 8pm) and will continue on through the entire weekend (including during Saturday's art market and big night show)," the venue announced.
For more information, see the preview article by Alejandro de los Rios of our partners at Gambit.