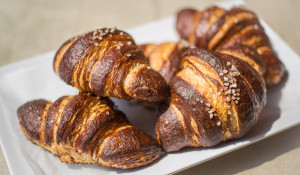 Pretzel croissants, Chilton County Peach Danishes, Pearl Sugar Brioche – these are just a few of the baked goods that will draw you into Gracious Bakery + Café this weekend. But once you are there, chances are you will stick around for sandwiches like their Smoked Ham on Baguette with pecan and cheddar spread and homemade pepper jelly. Now open on Sundays until noon, this family-friendly artisan bake shop is helmed by Sucré alumna Megan Forman and has been recognized by Travel + Leisure magazine as one of "America's Best Bakeries."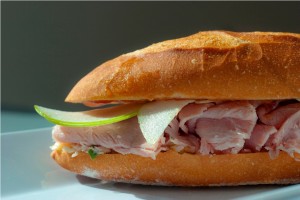 "We know that our customers have many choices available – and they are choosing us – so we aim to treat them with respect and care," Forman says. "To that end, we use high-quality ingredients like Two Run Farms beef, Hollygrove Market produce, Plugra butter, and flour that is never bleached nor bromated. We sincerely believe you can taste the difference."
Gracious also features a full bread program offering French baguettes, challah, sourdough and blue cheese walnut boules. All the sandwiches served there are on breads they bake daily, in-house. Their breads, pastries and desserts can be found at Martin Wine Cellar, Whole Foods and Hollygrove Market, among other locations.
Gracious Bakery + Cafe 
is open seven days a week and provides business catering to the CBD and Greater New Orleans area with free delivery. Check out their menus at
www.graciousbakery.com
or give them a call at (504) 301-3709.