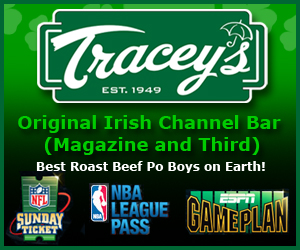 Tracey's Original Irish Channel Bar is the spot to be for the Team USA Watch Party today at 3PM. Please join us for what is sure to be the local sports spectacle.
We will feature Brazilian style drinks and our famous po-boys. The Sports Hangover show will broadcast Live during the game to capture the excitement. We hope you will join us, too!
In 1858, the Irish Channel section of New Orleans hosted one of the first organized games of soccer in the world. Tracey's was the original Irish Channel bar, established in 1949. The location at Third & Magazine Street has always seen as an Irish Channel Oasis, with cool air conditioning, the first color TVs in the neighborhood, cold beer and fantastic food.
Tracey's Original Irish Channel Bar
 is located at 2604 Magazine Street (
the corner of Third St. and Magazine St.) For more information, please go to our website traceysnola.com.