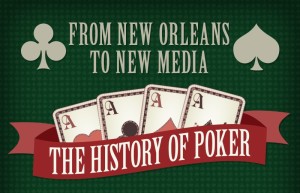 The following infographic created by Full Tilt Poker depicts the history of poker from its origins to online poker today. Since it's beginning, poker has greatly changed and evolved. The game may have developed over the hundreds of years it has existed, but aspects like the use of ranking cards and psychological strategy have always existed.
During the 1800s,  poker found its place in New Orleans. By the time New Orleans became part of the United States in 1835, the French game pogue had transformed into poker. From New Orleans, poker continued its journey along the Mississippi River and spread to the rest of the USA.

It didn't take long before poker spread throughout the rest of the world. During the Wild West period, poker became as notorious as some of the historical figures that came out of the time. Examples from the 1870's include the now famous Doc Holliday and Wild Bill Hickok that travelled between the saloons of the frontier settlements, playing poker and shooting their opponents.
As with all recreational activities that are accepted into popular culture, poker found its place in the media. As well as featuring in countless films, the game also appeared in Star Trek: The Next Generation during the 1980s. In these classic episodes, the senior staff of the crew played the game.
This then brings us to the current day and the now digital age of poker. The game of poker is now widely available online via dedicated websites and downloadable software. If you want to find out more about the history of poker, take a look at the infographic that features legends of poker like Stu Ungar, who became famous at 14 for winning the championship games with his natural talent.
Brought to you courtesy of Full Tilt Poker.