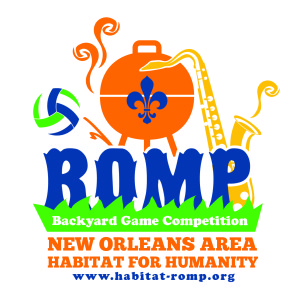 Join Habitat for Humanity for a ROMP! in Palmer Park with music from Hot 8 Brass Band, a performance from 610 Stompers plus backyard games and races.
For more about this fundraising event, the following information is from Habitat for Humanity:
Habitat for Humanity will host their second annual ROMP! event on Saturday May 10, at Palmer Park on Carrollton and Claiborne. ROMP! will feature Hot 8 Brass Band and the 610 Stompers. Teams sign up — $25/person, $100/team — and compete in backyard games like relay races, tug-of-war and volleyball to win a Golden Hammer. It's free to be an observer and listen to the music and cheer on the competitors.

What: ROMP, New Orleans Area Habitat for Humanity Back Yard Games Fundraiser

When: Saturday, May 10, 2014. 11:30 a.m. – 3:30 p.m.

Where: Palmer Park in New Orleans – corner S. Claiborne Avenue and Carrollton Avenue.

Who: Open to the Public. All Ages. Teams or Individuals compete in games. Spectators and Music Free. Music by The Hot 8 Brass Band and a performance by the 610 Stompers.

How: To Register or learn more about ROMP: www.habitat-romp.com

This event is fun, family friendly and a nice way to enjoy some free music the weekend after Jazz Fest or to give back by actually competing.

One of the members of Hot 8, Terrell Batiste, is now a first-time homeowner thanks to New Orleans Habitat for Humanity. They were able to build him a wheelchair friendly home in Musicians Village.