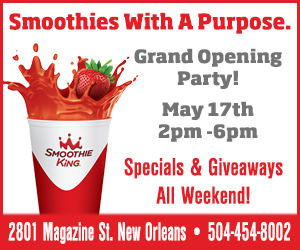 Smoothie King Franchises, Inc. is opening new locations in New Orleans! The first is located at 2801 Magazine St. and is a 1,903 sq. ft. store featuring the new Smoothie King store design developed by WD Partners. The second is a kiosk location in the new Outlet Collection at Riverwalk.
"Smoothie King was born in New Orleans and it is the ongoing support we've received from this community that has propelled us to be the leading smoothie franchise concept for the past 20 years," said Smoothie King Global CEO Wan Kim. "Our three corporate locations in New Orleans will feature our new store design giving guests an opportunity to experience where Smoothie King is headed nationally and internationally."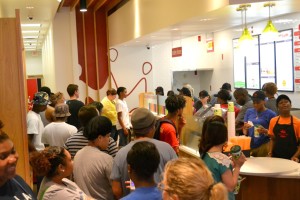 The new Smoothie King store design at 2801 Magazine St., the Outlet Collection at Riverwalk, and Clearview Palms all help support us offering purpose-based smoothies for every need. Store features include the company's new logo, visuals that reinforce the brand's purpose-driven positioning, and a large mural highlighting Smoothie King founder Steve Kuhnau's original purpose (at the Magazine St. location only).
"By bringing the new Smoothie King design to these high traffic locations in New Orleans, we are sharing our future with the market that made us," says Chris Webb, director of company store operations.
Smoothie King at 2801 Magazine St. is open and serves guests daily from 7 a.m. to 9 p.m. The Grand Opening party will be May 17th from 2-6pm, and there will be specials and giveaways all weekend! The Outlet Collection at Riverwalk kiosk will open May 22, and the Clearview Palms location is open Monday-Friday from 7 a.m. to 9 p.m., Saturday 9 a.m. to 9 p.m. and Sunday 10 a.m. to 7 p.m.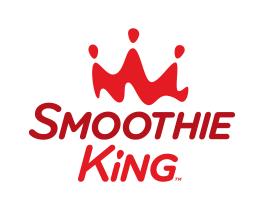 About Smoothie King Franchises Inc.
Smoothie King Franchises, Inc. is a privately held, New Orleans-area-based franchise company and the premier Smoothie Bar and Nutritional Lifestyle Center in the industry. Smoothie King offers guests the original nutritional fresh-blended smoothie and healthy retail products, including sports beverages, energy bars, healthy snacks, vitamin supplements, herbs, minerals and other sports nutrition products. Smoothie King opened its first store in 1973 and started as the first franchised smoothie bar/health food store in the United States in 1989.
In 2013, Smoothie King was ranked no. 1 by Entrepreneur magazine in the juice bar category for the 20th year and no. 86 overall on the 2014 Franchise 500 list. There are currently more than 650 units operating in 33 states, the Caymans, Singapore and the Republic of Korea. There are currently 51 franchised Smoothie King locations throughout the New Orleans metro area. These two new locations bring the total company owned stores in the New Orleans area to three with plans to open more than 20 throughout the country this year.
Visit www.smoothieking.com or www.smoothiekingfranchise.com; engage on Facebook www.facebook.com/SmoothieKing; follow us on Twitter at http://twitter.com/smoothieking.