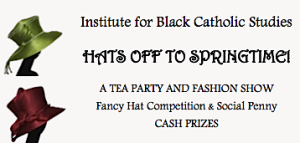 Xavier University's Institute for Black Catholic Studies presents  Hats Off to Springtime! The event includes a tea party and fashion show, as well as a penny social auction, fancy hat competition, and CASH PRIZES!
The categories for the fancy hat competiton are:
Fancy Hats
Who Dat Nation Hats
Africa-Inspired Hats
The event is this Sunday, April 6th, from 3pm to 6pm on the 3rd floor of Xavier's University Center. Admission is $20. For more information, visit the IBCS website or call the office at (504)520-7691.
Hats Off To Springtime!
Sunday, April 6, 2014 Xavier University of Louisiana
1 Drexel Drive
University Center – McCaffrey Ballroom – 3rd Floor
3:00 – 6:00P PM