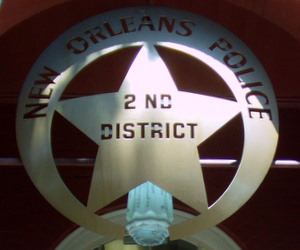 In a "day in the life" glimpse into the perspective of police officers on the parade route, Naomi Martin of The Times-Picayune profiles the efforts of the NOPD's Uptown-based Second District to use tact to keep the peace rather than the force of their legal authority.
"In a city where the police department is constantly under scrutiny for its problems, Carnival provides a time for officers to make a positive impression with citizens," Martin writes. "The New Orleans Police Department has turned keeping order amid drunken revelry into an art form."
In early February, NOPD Superintendent Ronal Serpas urged district commanders to begin training their officers to apply the lessons from their Mardi Gras assignments to their day-to-day interactions with New Orleanians, reported Della Hasselle of Mid-City Messenger.
"The reason we survive Mardi Gras — unlike what happens with my friends in Vancouver, unlike what happens with my friends in Seattle when they try to pull this off – the reason we survive Mardi Gras with so few cops is because our cops inherently learn in their soul, in their blood: 'I've got to go be friendly with the 10,000 people in this block'," Serpas said in the Mid-City Messenger report.