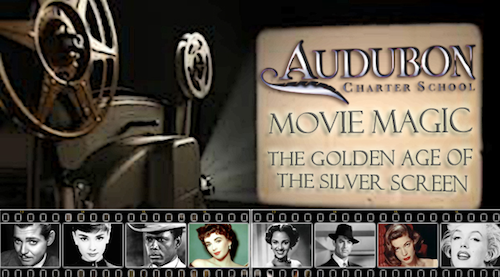 Dress to impress on the red carpet Saturday night at the House of Broel for the Audubon Charter School fundraiser, where you can enjoy specialty food, drinks, auctions and the chance to meet Saints cornerback Keenan Lewis.
For details, please refer to the following announcement from Audubon Charter School:
2014 Soirée: "Movie Magic…The Golden Age of the Silver Screen''

Audubon's 2014 Soirée is set for Saturday, March 22 at 7 p.m.at the House of Broel at 2220 St. Charles Avenue.

In addition to award-winning cuisine, liberal libations, dancing, spirited live and silent auctions, and music by the John Rodli Quartet, the soiree will feature special guest Keenan Lewis of the New Orleans Saints. Additionally, there will be an online auction that will run from Monday, March 17 to Tuesday, March 25.

Where is the only place outside of Hollywood where Charlie Chaplin, Clark Gable, Marilyn Monroe, Dorothy Dandridge, Sidney Poitier, Marlon Brando, Queen Elizabeth and Superman might be in the room at the same time? Hollywood South of course, at the Audubon Charter School Soirée!

It's an awesome time, but more importantly, it is a party with a purpose. The soiree serves as a critical fundraiser to help Audubon close a $105,700 gap. That is the difference in the amount of money it takes to operate Audubon and the funding the school receives. That money pays for additional teachers, teacher assistants and increased security.

It is also an opportunity to meet other parents, bond with the staff and pick up unique paintings and photography by emerging local artists (including Audubon students), jewelry, wine, classes, gift certificates and other items for a worthy cause. Auction items include a signed custom Keenan Lewis jersey; footballs autographed by Jimmy Graham, Rickey Jackson, Keenan Lewis, and other New Orleans Saints; a two-night stay in a private cottage with pool near the beach in Bay St. Louis; a private wine tasting for 12; a private dinner prepared and served in your home by a former White House chef; French classes; and a framed, signed and numbered print by artist James Michalopoulos.
Dinner and libations will be provided by Bhimel Catering; Cynthia Fournet; Tom King; La Boulangerie; Charles Mendy; Oceana Grill; The Lake House; Specialty Italian Bistro; Starbucks; and Zea.

Blue Cross Blue Shield of Louisiana is the Soirée "Oscar" sponsor, and our "Best Dressed" sponsors are Bryan's United Air Conditioning, Empire Janitorial Sales and Services, Materials Management Group, and Sun Electric and Instrumentation. "Red Carpet" sponsors are Bryncon-Grillot Construction, LaPorte Sehrt Romig Hand, Safeguard, Silva, Gurtner & Abney, and The O'Connor Insurance Group, LLC. "Hollywood" sponsors are APC Construction and James F. Williams Agency Allstate, and our "Stars" sponsors are Leah and Byron Badger, Jenny and John Creevy, Stephanie and Frank Douglass, Julie and Leron Finger, Andrea Shaw, Andrea and Ren Wilkes, and Elizabeth and Carlos Zervigon.

Sponsorships, ranging from the $200 Star level to the $2,500 for Oscars, are still available, and patrons will be recognized for their contributions. Individual tickets also are on sale for $40 in advance, $50 at the door. For more information, please contact Sophia Griffies, Development Specialist, at 504-324.7100 or Sophia_Griffies@auduboncharter.com.