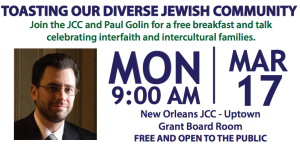 Learn about Jewish tradition by attending the Jewish Community Center question-and-answer session Monday morning (March 17) at the Jewish Community Center, 5342 St. Charles Avenue.
Details of the event and questions that will be posed during the discussion are below, via the Jewish Community Center:
Whether you are a partner from another background raising Jewish children, the grandparents of grandkids being raised in interfaith or inter-cultural homes, the Jewish partner, a family member, or just interested in the topic, please join us for a fun, informal conversation and Q&A with author and Jewish communal professional, Paul Golin — himself part of an intermarried, multiracial household.

– How does the Jewish community welcome (or sometimes not) intermarried households?
– What's changed and what still needs to change?
– Why should non-religious households even care, or want to get involved? What's the benefit in being a part of the organized Jewish community?

Bring your own questions, experiences, challenges and triumphs! No judgments.

Paul Golin is a frequent writer and speaker on Jewish inclusion, and co-authored two books: How to Raise Jewish Children Even When You're Not Jewish Yourself and Twenty Things for Grandparents of Interfaith Grandchildren To Do (And Not Do) To Nurture Jewish Identity In Their Grandchildren. Paul serves as associate executive director of Big Tent Judaism/Jewish Outreach Institute (JOI.org), a national, independent, trans-denominational organization reaching out to unaliated Jewish families with an emphasis on engaging intermarried households and helping the organized Jewish community better welcome them in. He is the white Ashkenazi half of a "Jewpanese" (Jewish/Japanese) Jewish multiracial household.