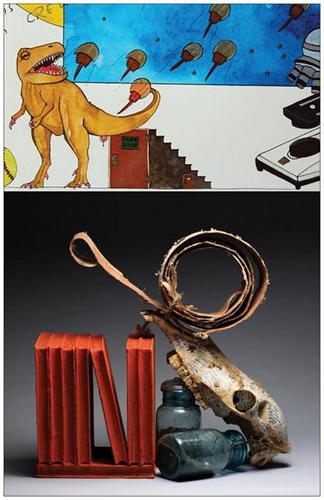 Caroline Hill will discuss her multimedia "Dream Series" and Anthony Stellaccio will describe the ceramic forms in "Drink from the River" prior to an opening reception for their work Saturday afternoon at Du Mois Gallery.
For details, see the invitation from Du Mois Gallery below.
Please join us to celebrate the artists Anthony Stellaccio and Caroline Hill THIS Saturday.

New exhibits include Drink from the River, a series of incredibly well crafted ceramic forms transform the upper gallery. In addition, the intense multimedia drawings of Dream Series draw you in with endless color and forms creating layers of vistas open to interpretation in each work fill the lower gallery.

We are very proud to showcase these artists and hope you can join us this Saturday as we flow onto the new back deck and enjoy this lovely time of year.

Consider arriving for 4pm to gain insight as the artists talk about the work and of course stay for the opening reception from 5-8pm.

Please view this video https://vimeo.com/79370828 to see how DREAM SERIES came to be.
Du Mois Gallery is at 4609 Freret Street, and is also home to the office space of Uptown Messenger and Mid-City Messenger.