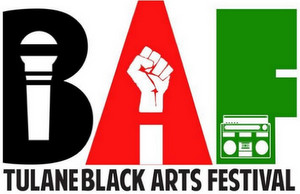 A range of visual and musical artists will perform in free events today (Friday, Feb. 21), Saturday and Sunday as part of the Tulane Black Arts Festival.
At 1 p.m. Friday, artists Brand "BMike" Odums (known for his #ProjectBe installation) and Devin Reynolds will begin a live visual arts demonstration in the Lavin-Bernick Quard that will dovetail with Tulane's weekly Fridays at the Quad. From 4 to 6 p.m., food will be available from local black-owned restaurants, and the finished artwork will be donated to a school.
From 8 to 10 p.m. Saturday, Sunni Patterson will headline the festival's performing arts showcase in the Kendall-Cram Room of the Lavin-Bernick Center. The showcase will also feature 10 other performing artists.
From 6 to 9 p.m. Sunday at the Ashe Cultural Arts Center (1712 Oretha Castle Haley Boulevard), the festival's visual arts showcase will present the work of a dozen artists in an exhibit called "In the Black of Our Minds."
For more information, visit the festival website.