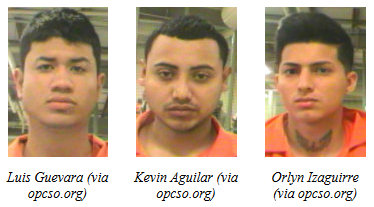 Federal immigration authorities are now seeking to detain all three suspects arrested by New Orleans police in last week's home-invasion robbery in the Garden District, officials said.
The Orleans Parish Prison received detainers from U.S. Immigration and Customs Enforcement for Kevin Aguilar, Luis Guevara and Orlyn Izaguirre late last week, jail records show. The men are accused of using a ruse to barge their way into a home on Sixth Street, tying the couple that lived there up with dog leashes and stealing from their home, police said on Thursday.
"U.S. Immigration and Customs Enforcement filed detainers against Luis Guevara-Leon, Kevin Aguilar and Orlyn Izaguirre, following their arrest by local law enforcement February 6," according to a statement by Bryan D. Cox, a public affairs officer for the agency. "The identification and removal of criminal offenders is ICE's highest priority."
A detainer is a request by ICE for a local jail to hold an offender for 48 additional hours after he or she would normally be released — either by adjudication of the criminal charges or by posting bail — so that immigration officers can come pick them up. ICE typically only issues the detainers for offenders who fall into three categories: those accused of serious criminal offenses, those who have been deported in the past or those under current deportation orders.
Each of the men accused in the Sixth Street case is being held in the Orleans Parish Prison on a $250,000 bond on the armed-robbery and aggravated-burglary charges, jail records show. If any of the men make bond, the detainer would give ICE 48 hours to to pick him up and take him into immigration custody, though the criminal case would still proceed.
Last year, the sheriff's office announced that it would no longer honor the immigration detainers "unless the person faces charges for murder, aggravated rape, aggravated kidnapping, treason or armed robbery with a firearm," wrote John Simerman of the New Orleans Advocate. The policy change took place at the urging of the New Orleans City Council and following a lawsuit by two inmates who were held for months after their criminal charges were resolved because the jail's record-keeping systems failed to note that their 48-hour ICE holds had expired, Simerman wrote.
"ICE has implemented clear priorities that focus on convicted criminals and other public safety threats, as well as those who repeatedly violate our immigration laws," Cox said in his email Monday. "The federal government alone sets these priorities and places detainers on individuals arrested on criminal charges to ensure that dangerous criminal aliens and other priority individuals are not released from prisons and jails into our communities."