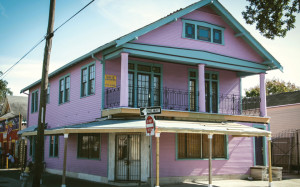 One in three of our residents live below the poverty line. This means little to no access to the ever-changing technology that will affect the future of countless careers. That's why collaborators Civic Center, St. Claude Main Street, New Orleans Youth Sound Experience, and NOLA Mix found it imperative to launch the St. Claude Lab.
Located in the Bywater area, the goal of the St. Claude Lab is to foster technology literacy by exposing the youth to valuable digital resources. Evening courses on music production and various other digital media skills like graphic design, filmmaking, and photography will be available at no expense to the student. The lab will even offer computer literacy and workforce training workshops for adults to further minimize that digital divide. There is no place like this in all of New Orleans!
Thanks to the support from Cox Communications, the Jazz & Heritage Foundation, and ArtPlace, we have secured some grant funding. However, we are far short of what we need to open as a full-functioning tech lab. With your help, we can provide New Orleans with a resource that will allow many of our residents to finally step into the digital age.
For more information and to make a donation, please visit our Kickstarter site: www.kickstarter.com/projects/1218410377/launch-the-st-claude-lab.