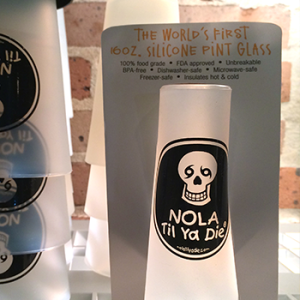 Mardi Gras is the quintessential New Orleans season when revelers take to the streets enjoying great music, good food, and elaborate visuals. Let NOLA Til Ya Die match your Carnival spirit with their innovative, indestructible, eco-friendly drinkware that can be used for seasons to come.

Back from an initial sellout, NOLA Til Ya Die's food-grade silicone glasses are made from abundant, natural materials – no plastic, no petroleum — BPA-free, FDA-approved, nontoxic/nonbacterial. Reusable, flexible, and portable, the Silipint™ and shot put the fun in functional.
NOLA Til Ya Die's 16 oz. pint (with travel lid) is perfect for all ages. Enjoy juice, milk, coffee or cocktails worry free. It's fit for the microwave,freezer, dishwasher, and even our rough-riding parade route. The 1.5 oz. shot is equally as fun with more than one use. Flip it upside down and you have bottle topper or golf tee. This drop-and-chip-safe drinkware pushes the boundaries on what you, and your drinkware, can do.
Available online with free domestic shipping. Visit www.nolatilyadie.com and #nolatilyadie on Facebook, Twitter, etc.