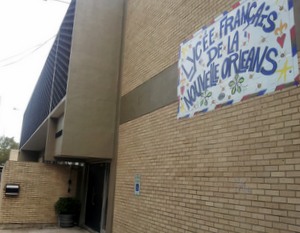 Lycée Français de la Nouvelle Orléans is receiving more applications for kindergarten through the citywide OneApp system than it ever has before, even as the young French-immersion charter school seeks to put to rest some of the lingering internal issues from its tumultuous previous school year.
During the "early window" phase of the OneApp process in December — which focuses on grades 1 and up — Lycee received 349 applications, with 179 in kindergarten alone, said Lycee CEO Keith Bartlett at Monday night's meeting of the school's governing board. By contrast, last spring the school admitted all 152 of its applicants for the current school year.
Of the kindergarten applicants, 110 ranked Lycee as their first choice, Bartlett said. The main phase of the OneApp for kindergarten applications actually just opened Monday (Jan. 13) and will continue until the end of February.
"We expect even more applications than we already received in that early window," Bartlett says. "The interest in our school is certainly there."
During this year's admissions process, the school plans to reserve 67 percent of its seats for students who qualify for free or reduced lunches, to bring it closer in line with the at-risk student population of Louisiana.
Amid the growing enthusiasm for the school, a handful of issues from its divisive 2012-2013 school year still remain unresolved, board members said Monday night.
The school received its audit for the 2012-13 school year Monday night, and received a clean bill of financial health. The previous year's audit found a number of weaknesses in internal financial controls, and parents were outraged to find the school year ended with a cash shortfall — but auditor Todd Tournillon said Monday that those problems have been resolved, and the school ended 2012-13 with a surplus.
"That's quite a change from the initial year, which had a deficit," Tournillon said.
Some parents have repeatedly questioned the marketing, development and admissions contract with the Sweet Olive firm, and Bartlett had previously recommended moving those duties in-house, but possibly as part-time positions. On Monday, Bartlett said the school can afford to make the two full-time positions in admissions and development, and that the workload will justify the cost. The board members agreed that Bartlett has the authority to begin advertising for those openings without a formal board vote.
The school has recently discovered an unpaid bill of $14,000 from Adams and Reese, its previous law firm. It is unclear how the bill was overlooked, said board member Allyson Mills, and the school is currently weighing its options as to how to deal with it.
Former faculty member Darleen Mipro still has several outstanding lawsuits against the school, reported board member Ben Castoriano. One is for defamation, one is for breach of contract and a final one concerns a wage dispute, Castoriano said — though Mipro's husband, Michael Depp, added after the meeting that she has also sued the school for malicious prosecution.
A judge had ruled in Mipro's favor in the wage dispute, but the school is appealing that case, Castoriano said, and the other two are pending as well. The board voted to go into a 20-minute executive session to discuss the details of the lawsuits further, drawing criticism from parent Paula Griffin for going behind closed doors.
Meanwhile, the school is continuing to negotiate with St. Paul's church next door for the use of some space for administrative offices and possibly classrooms next year as the school continues to grow, Bartlett said. A decision on that is likely next month, said board chair Tim Gray.
To read our live coverage, see below.