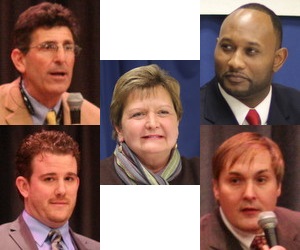 The City Council District A candidates' forum organized by the Carrollton Area Network has been postponed to 6 p.m. Friday (Jan. 31), the day before voters head to the polls.
Organizers had hoped the weather would thaw enough for the forum to be held Wednesday as originally scheduled, but city officials are asking New Orleanians to stay off the streets unless absolutely necessary. Temperatures are expected to return below freezing at dusk, so the forum was moved to Friday.
The forum will still be held at St. Mary's Dominican High School, 7701 Walmsley Ave.
To learn more about the candidates, see the Uptown Messenger voters' guide to the District A election.
Update: Drew Ward is planning an informal candidates' forum for 6:30 p.m. Wednesday at The Willow (the former Jimmy's Music Club) at Willow and Dublin. Children are not allowed, and attendees should bring their own chairs, Ward says.