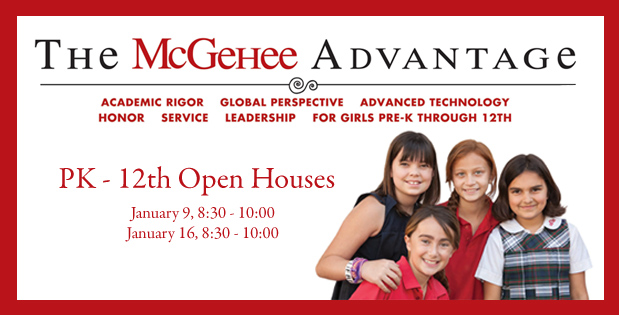 A McGehee girl experiences academic rigor and personal attention in its small class sizes with direct access to faculty. Your daughter will learn about honor and service as well as leadership. The McGehee Advantage provides her with the opportunity to be…team captain, student body president, and star of her class musical – and she will enjoy not only equal opportunity but every opportunity.
Open House Admission Tours for Pre-K – 12th grade are scheduled for 8:30-10:00 am January 9 and 16 OR you may arrange for a private tour by calling the Admission office at 561-1224.
See the McGehee Advantage in action:
Academically challenging
Small by design
Global perspective
Advanced technology
STEM
Studies abroad
Leadership development
Experiential learning
Service oriented
Student governed honor system
All girls
Why single-sex for girls?
According to the National Coalition of Girls' Schools, the following are several reasons why you should choose an all girls' school for your daughter:
Finding her voice, collaborating on projects and excelling in academics will prepare her for a purposeful life. Subtracting boys from the equation gives girls greater opportunity.
 At girls' schools, every girl has an abundance of peer role models.
Without the distraction of boys, girls have a greater ability to focus on their work and teachers can demand their work meet higher standards.
Girls' school graduates have an edge.
McGehee is open to all qualified girls regardless of race, religion, national or ethnic origin. To learn more about McGehee, visit mcgeheeschool.com
Louise S. McGehee School
2343 Prytania Street, New Orleans, 70130
 504.561.1224
www.mcgeheeschool.com

 Nonsectarian/All-Girl/College Prep Headmistress: Eileen F. Powers
 Grades Taught: Pre-K–12th grade