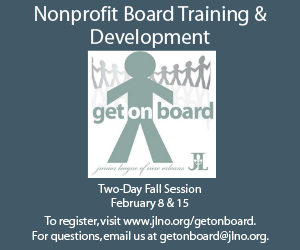 Many nonprofit organizations working hard to improve our region are facing enormous challenges and are seeking energetic, talented and qualified leaders to help them achieve their mission. The Get on Board training program prepares individuals to serve as board members for nonprofit organizations.
"Well-performing nonprofits focus on impact and effectiveness, just like any business does," says Nancy Burris Perret, a facilitator of Get on Board.
Being enthusiastic about an organization's purpose is not enough to ensure it makes a meaningful impact.  Leaders must maximize resources, fundraise, plan for sustainability, and strategically partner for success.  Those that attend the Get on Board training program can expect to understand the responsibilities of a nonprofit board and how these responsibilities relate to others within the organization.
While Get on Board started in 2008, the impetus for it dates farther back.  "Hurricane Katrina caused nearly every nonprofit board in the city to lose at least half of their board members – at least temporarily," says Nancy.  The influx of young people willing to help post-Katrina could fill empty board positions; however, they were missing the training and introduction needed for placement.
"Many sought ways to continue to volunteer in the community after initial clean-up but didn't have the connections to know how to approach nonprofits about serving on their boards," says Nancy.
When a previous program conducted by another nonprofit was discontinued, JLNO members, including Tara Luparello, developed and submitted one through JLNO's Project Development Process.  "I heard from so many former participants, volunteer trainers and nonprofit executives how the New Orleans community so desperately needed a formalized board training and placement program again," says Tara.
When registration opened, it completely filled within hours.  "One thing was clear: the community was more than ready for a board training program again," says Tara.
The program has remained popular, and in 2012, the Association of Junior Leagues International (AJLI) awarded JLNO the Community Impact Award.  To date, nearly 400 individuals have received Get on Board training and placement with over 60 nonprofit organizations.
"To be a nonprofit board member is to be able to touch the future," says Susan Mancuso, one of the Get on Board facilitators.  She adds that "By joining a nonprofit board, one has the opportunity to positively impact an organization's mission for decades to come."  Get on Board facilitates that.
The spring session takes place over two Saturdays – February 8 and February 15 – from 8:30 am to 2:30 pm.  Upon successful completion of the course, JLNO can match participants with a local nonprofit.
To apply, either as a participant or as a non-profit looking for new board members, visit www.jlno.org/getonboard. The deadline for registrations is January 24 or until the class is filled. If you have questions, please email Kim Abramson or Julie Kenter at getonboard@jlno.org.