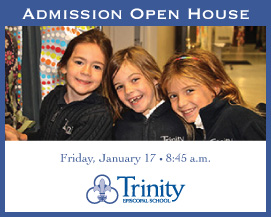 Trinity Episcopal School is a faith-centered, prekindergarten – grade 8, and coeducational independent school located in the Garden District of New Orleans.  Trinity will be hosting an Open House for prospective families this Friday, January 17th at 8:45am.  Families are also encouraged to call if they are interested in setting up a private tour.
Trinity's Headmaster, The Reverend Dr. Michael Kuhn writes about the uniqueness of our program:
"First, we are faithful. Building a foundation of daily Chapel means that our students see themselves as part of a larger community each and every morning. It speaks to our conduct, our focus in class, our purpose for learning, our willingness to challenge ourselves, our joy at play, and our call to service.
Next, our school serves young people. Being a Prekindergarten through Eighth Grade school keeps Trinity young in many respects. Our students are children growing into young adolescents. We specialize in helping students to make transitions, to gain skills, to feel confident as learners, to play for the joy of the game rather than merely the win, to feel free to question. This is, in fact, what is meant by a "developmentally appropriate program" – one that adapts itself to meet the needs of children as they grow.
Finally, our school is for boys and girls. As parents recognize more and more the value of a diverse community of learners for their own child's learning environment, the most obvious form of diversity is often times overlooked – gender diversity. Trinity Episcopal School has always been a coeducational program, and we continue to be proponents of boys and girls learning together. Because schools often serve as microcosms of our larger society, a coeducational school, like workplaces, families, other social groups and volunteer organizations can be an environment in which gender differences are better understood, preparing students for life. Students also learn to handle social issues that arise in mixed company with the support of adults around them".
Trinity Episcopal School is an ISAS member.  We seek to enroll qualified students without regard to gender, race, creed, ethnic, or national origin.
Trinity Episcopal School
1315 Jackson Avenue, New Orleans, 70130 504.525.8661 Headmaster:  The Reverend Dr. Michael Kuhn Grades Taught:  Prekindergarten – 8
th
grade  
www.trinitynola.com
For more information, contact Steve Salvo at 
ssalvo@trinitynola.com
.