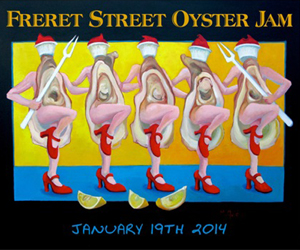 Are you looking for something to do this Martin Luther King, Jr. holiday weekend? Does it involve Louisiana seafood, live music, football, and outdoor fun? On Sunday, January 19, The Freret Market, Publiq House, Woody's Tacos and Family Fish Productions will host their first annual Freret Street Oyster Jam! Beginning at 11 a.m. at Publiq House.
The all-day celebration of oyster will feature a raw oyster bar, guest chefs creating authentic and classic oyster-based dishes, and live music provided by the Raw Oyster Cult, the New Orleans Suspects, the Mardi Gras Indian Orchestra among other special guests. Plus, you can catch the AFC and NFC championship games inside the Publiq House. Does this sound like where you should be this Sunday?
Pre-sale tickets for the celebration are $20, but are raised by $5 at the event. Pre-sale tickets can be purchased online at http://freretoysterjam.com.