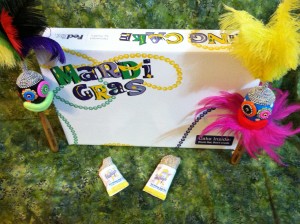 The most difficult part about being away from New Orleans during Mardi Gras is missing our world famous king cake. There's nothing like a king cake made fresh in New Orleans to bring back fond memories. Be sure to send a slice of love and ship them your choice of king cake this season through Parcels & Post.
Parcels & Post has special king cake boxes and can provide a choice of carriers, so there is no worry about size or excessive cost. Plus, mentioning the Uptown Messenger prior to checkout gives you a 15% discount on your shipment – and that's not just on king cakes; ship whatever you'd like!
This will be the last Mardi Gras for Parcels & Post at our current location – come see us!
Parcels & Post is located at 5721 Magazine St. at Nashville, with parking behind the building. Open Mon – Fri, 9am-6pm and Saturday, 9am-2pm. For additional questions, please call 504-891-8402.