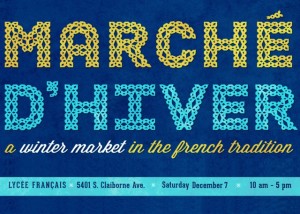 Marché D'Hiver Features Local Artisans, Crafts, Delicious Food and Music
In the storied tradition of the winter markets across France, the Claiborne campus of Lycée Français de la Nouvelle-Orléans will transform into a fun and festive experience for shoppers, foodies and children.
Returning for its third year, the Marché d'Hiver is an outdoor winter market featuring local artisans and students showcasing everything from hand-made jewelry to stained glass and pottery. Local eateries like Château du Lac, Cochon, Sylvain, Taceaux Loceaux, Nacho Mama's, Naked Pizza, and a pop-up patisserie will work to satiate the gastronomes, while a bouncy house, face painting, and crafts regale the children. Themed raffle baskets include autographed Saints items, luxury hotel stays, and gift certificates to popular restaurants. French musicians will perform throughout the day.
Benefitting La Liaison, the parent teacher organization of Lycée Français de la Nouvelle-Orléans, the Marché d'Hiver is Saturday, December 7, 2013, from 10 a.m. to 5 p.m. at 5401 S. Claiborne Avenue. Admission is free.
About La Liaison, Lycée Français de la Nouvelle-Orléans PTO:
La Liaison, Lycée Français de la Nouvelle-Orléans operates as a support organization for the school after which it is named, a charter school in New Orleans, Louisiana.  Lycée Français presently serves students from PK-3 to third grade, with plans to add grades through high school.  It is committed to teaching the French Ministry of Education's National curriculum in a French-immersion setting.  It is authorized and supervised by the State Board of Elementary and Secondary Education and may accept students from any parish in Louisiana.  For more information, see lfno.org.