ricRACK proudly announces the return of its popular, annual wardrobe sale: Hollywood Thrift. Women's-Men's-Children's 
clothing from LA and New York Film and Television Shows will be on sale. This year, it will take place on Sunday, December 15, from 11-2pm, at 929 Euterpe St. (across from The Saulet Apartments in the Lower Garden District).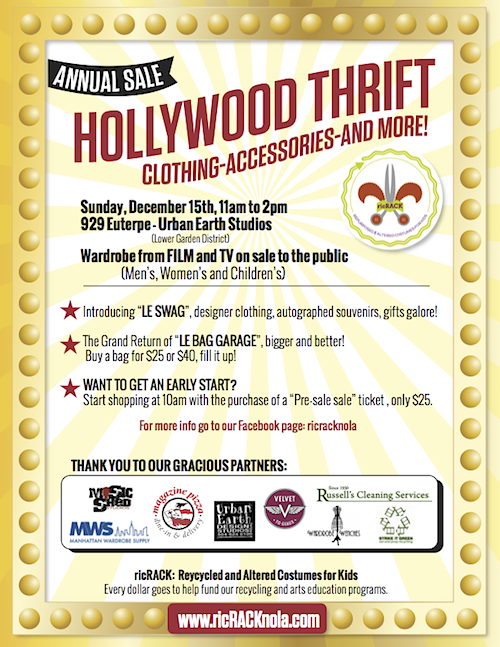 How it works: Merchandise is separated into two rooms– Le Bag & Le Swag. In Le Bag Garage, you buy a bag for either $25 or $40, and fill it. Le Swag, on the other hand, offers High end, vintage, and hipster clothing, plus celebrity autographed items at great prices.
All proceeds benefit ricRACK (Recycled and Altered Costumes for Kids), a NOLA youth-serving non-profit. Want to shop early? Avoid the crowds and start shopping at 10 am. A limited number of presale tickets are available online here.
For more info, please contact: ricracknola@gmail.com (Subject: Hollwood Thrift). To learn more about ricRACK, visit www.ricracknola.com or our Facebook page: facebook.com/ricracknola.