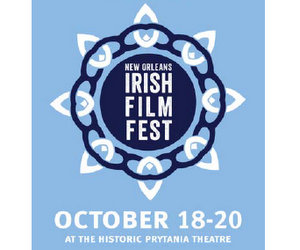 After a successful first year in 2012, the Irish Film Festival will return this weekend to the Prytania Theatre, with a gala Friday night and films throughout Saturday and Sunday.
For details and the full lineup, see below:
* * *
WHAT: The Prytania Theatre and the Irish Network- New Orleans present the 2nd Annual New Orleans Irish Film Festival at the Prytania Theatre.
Its second year running, the New Orleans Irish Film Festival is back on the Prytania's big screen to deliver another diverse slate of Irish films to New Orleans filmgoers. The weekend-long festival will combine confirmed classics and new work from both established masters and exciting young talents on the Irish scene.
WHERE: Prytania Theatre, 5339 Prytania Street, NEW ORLEANS, LA 70115
WHEN: Friday, October 18th – Sunday, October 20th, 2013
PRICE: Gala and The Commitments Friday night $40.00(I.N. Members) $50.00 General public / $50.00 Weekend pass(Excludes the Friday Night) / Single movies $10 general admission; $5 general admission for The Boy from Mercury only
FILMS:
***FRIDAY***
Gala Followed by – The Commitments (1991)
Friday, October 18, at 8:00 p.m.
Jimmy is a would-be music business wheeler and dealer, and he's decided what Dublin needs is a top-shelf soul band. However, top-shelf soul musicians are hard to find in Dublin, so he has to make do with what he can find. However, after a long round of auditions, Jimmy makes two inspired discoveries: Deco, an abrasive and alcoholic streetcar conductor who nevertheless has a voice like the risen ghost of Otis Redding, and Joey "The Lips" Fagan, a horn player who knows soul music backwards and forwards and claims to have played with everyone from Wilson Pickett to Elvis Presley. Before long, the band — called the Commitments — is packing them in at local clubs. But do they have what it takes to make the big time?
***SATURDAY***
The Boy from Mercury (1996)
Saturday, October 19, at noon
The Boy from Mercury is a sprightly, nostalgic and ultimately sentimental Irish drama that concerns the science-fiction daydreams of a young boy in 1960 Dublin. The tale centers on Harry Cronin, who decides, in the face of his elder brother's neglect and his father's death, that he and his dog are aliens on a special mission from Mercury, and constructs elaborative and imaginative scenarios. However, with the help of Uncle Tony, an undisputed outsider himself, Harry is finally able to deal with his reality and life.
Jump (2012)
Saturday, October 19, at 2:00 p.m.
Jump follows the lives of four twenty-somethings whose lives collide one fateful New Year's Eve amidst the ancient walls of Derry, Northern Ireland in a night of fast talk, accidents and intrigue. Crime boss daughter Greta is rescued from suicide by drifter Pearse who's on a mission to avenge his brother's mysterious death. Johnny, a small time crook and Marie, a frustrated shop assistant are both looking for a fresh start. As the clock ticks down to midnight and the night's events fall into place, Jump weaves an existential portrait of our character's lives as their hopes, fears and secrets are revealed.
King of Travellers (2012)
Saturday, October 19, at 4:00 p.m.
Set in the Irish Travelling community, King of the Travellers tells the story of John Paul Moorehouse and his journey to avenge the death of his father. The recent return of the Power family, who John Paul believes are responsible for his father's murder, ignites an old feud between the two rival families. However when John Paul falls in love with Puc Power's daughter, Winnie, he is faced with a dilemma. With war brewing, John Paul must decide between his love for Winnie and his duty to seek revenge for the death of his father.
The Hardy Bucks (2013)
Saturday, October 19, at 6:00 p.m.
Eddie, the self-proclaimed leader of the 'Bucks is dreading spending another summer bored out of his skull. Ireland has qualified for the Euros in Poland, but with no money and apathetic mates, the task falls to Eddie to get them out of Castletown and onto the road in search of football and the craic. Described by many as Ireland's The Hangover.
One Hundred Mornings (2009)
Saturday, October 4, at 8:00 p.m.
Set in a world upended by a complete breakdown of society, two couples hide out in a lakeside cabin hoping to survive the crisis. As resources run low and external threats increase, they forge an uneasy alliance with their self-sufficient hippie neighbor. Unspoken animosity fills the air, and a suspected affair is driving a wedge between them all. Poorly equipped to cope in a world without technology and saddled with completely conflicting worldviews, everything begins to disintegrate. Finally, each of them faces a critical decision they never thought they would have to make.
***SUNDAY***
Silence (2012)
Sunday, October 20, at 3:00 p.m.
Eoghan is a sound recordist who is returning to Ireland for the first time in 15 years. His reason for returning is a job offer: to find and record places free from man-made sound. His quest takes him away from towns and villages into remote terrain. Throughout his journey, he is drawn into a series of encounters and conversations which gradually divert his attention towards a more intangible silence, one that is bound up with the sounds of the life he had left behind. Influenced by elements of folklore and archive, Silence unfolds with a quiet intensity, where poetic images reveal an absorbing meditation on themes relating to sound and silence, history, memory and exile.
The Snapper (1993)
Sunday, October 20, at 5:00 p.m.
Soon after a wild night at the pub, twenty-year-old Sharon finds herself expecting a little "snapper". Her refusal to name the father sets in motion a family drama involving her three brothers, two sisters, and her parents, along with her employers and all her friends. Sharon soon discovers who her friends really are, as some people tease and torment her, some make remarks to her siblings, some force her father to take direct action in her defense, and all spread gossip.
What Richard Did (2012)
Sunday, October 20, at 7:00 p.m.
It's the summer before heading to university, Richard, a popular golden-boy, and his friends are looking forward to their bright futures. But then, Richard does something devastating, changing everyone's life. Winner of the 2013 Irish Film & Television Awards for Best Film, Best Director, Best Script and Best Actor.
If you have any questions about any of the films of the event in General please feel free to contact us.
Tickets on Sale NOW!
Tickets are now available at the Prytania Box Office or through our web site at www.theprytania.com