Orleans Parish and much of the rest of South Louisiana is under a tropical-storm watch — meaning winds of greater than 39 mph are possible — as Karen is currently tracking to the east. A hurricane watch is in effect from Grand Isle to Indian Pass, Fla.
As of an advisory issued at 10:36 a.m. Thursday, Karen's winds were at 65 mph and the storm was expected to spend the day moving north across the Gulf of Mexico. The storm's effects are predicted to approach Southeast Louisiana by Friday night, and the Alabama and Mississippi coasts by Saturday, though exact forecasts are still being calculated.
About 4 inches of rain are currently predicted for Friday and Saturday in the New Orleans area, according to the National Weather Service.
"A general concern should be for the possibility of at least damaging winds somewhere within Southeast Louisiana and South Mississippi," the 10:36 a.m. advisory from the National Weather Service New Orleans office states. "The latest forecast is for winds to remain below tropical-storm force. Gusts above tropical-storm force are possible Friday afternoon into Saturday."
Residents of Orleans Parish and others under the watch should begin preparing and reviewing personal disaster plans, the forecast says. The city of New Orleans is urging residents "to monitor the weather conditions and stay alert," according to Mayor Mitch Landrieu's office. Updates from the city can be found at ready.nola.gov, and storm-related issues can be reported by calling 311.
The next update is planned for 1:30 p.m.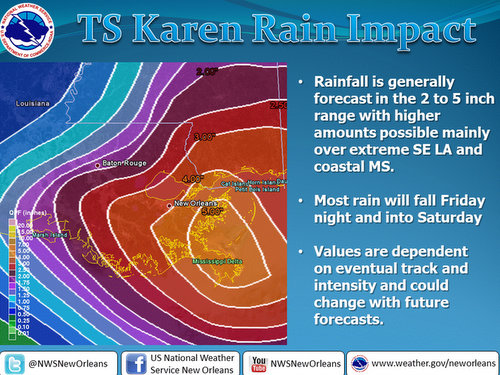 New Orleanians should begin preparing their homes for possible high winds this weekend after the formation Thursday morning of Tropical Storm Karen in the southern Gulf of Mexico, according to meteorologists with the National Weather Service.