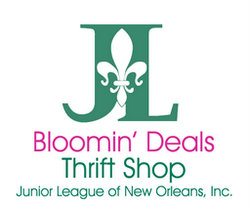 Shoppers at Bloomin' Deals thrift shop on Freret Street can take home everything they can fit in a 33-gallon trash bag on Saturday in the Junior League of New Orleans' semiannual "Bag Day" clearance sale.
For details, see the event announcement below:
Bag a deal at Bloomin' Deals
Saturday, October 5, 2013
10:00 a.m. – til the store is empty

Bloomin' Deals is proud to present "Bag Day".
Come in the Thrift Store and fill 33-gallon trash bags with anything in the store and pay only $10.00 per bag!
CASH ONLY

There is one rule:
You must be able to pull, push, carry or drag your bag(s) to the front counter! (Unlimited number of bags)
Come fill your trash bag(s) with treasures!

NOTE: Bloomin' Deals will re-open on Sunday, October 6th at 12:30 pm with new merchandise.