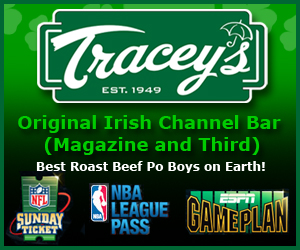 At Tracey's, we are always a good stop before or after Halloween or Voodoo Fest for something to eat and a spooky drink or two.  Our bartenders are costuming and have plenty up their sleeve.
Try out our new menu items:
Philly cheese steak on marble
Italian sausage w/ onion & bell peppers po'boy
Crawfish & green onion po'boy
Alligator sausage po'boy
These will be on the menu from here on out because they are that good. Of course, we will have all the games for those who are ready to trade a halloween mask for a football mask: LSU and Saints vs. Jets this weekend!
Tracey's Irish Resaturant & Bar
2604 Magazine St
http://www.traceysnola.com/‎