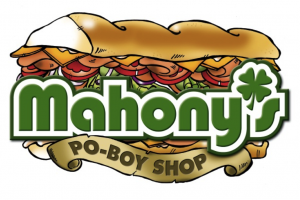 Mahony's Po-Boy Shop, located at 3454 Magazine Street, has re-opened after a one week hiatus.
The lrish Channel favorite, known for its root beer glazed Chisesi's ham & cheese and Peacemaker po-boys, had been closed since October 14th in order to make kitchen improvements designed to decrease ticket to table times. Mahony's has also begun table service for an enhanced customer experience.
Now open seven days a week (11 AM to 9 PM) in order to accommodate Sunday po-boy cravings, Chef Jason Sanders has also expanded the restaurant's menu to include wings for the neighborhood sports fan, as well as seasonal culinary offerings such as an alligator sausage po-boy with pickled jalapeño and squash relish. For those wishing to get a po-boy to go, take-out orders are available by phone at 504-899-3374.
In order to celebrate the re-opening and improved service and speed, Mahony's is holding a pumpkin carving contest at 6 PM on Monday, October 28th. The first 15 people to register will receive a pumpkin and carving tools, as well as a free draft beer and a po-boy. The winner, to be decided by popular vote, will receive a $100 Mahony's gift certificate.  Those who wish to participate may sign-up by emailing contact@mahonyspoboys.com.
Mahony's Po-Boy Shop
3454 Magazine Street 504-899-3374
mahonyspoboys.com
contact@mahonyspoboys.com