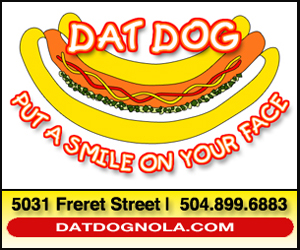 Celebrate Oktoberfest in true Dat Dog style with German beer, a traditional Bavarian Bratwurst special and even a dog talent show at the Dat Dog Magazine Street location on Saturday, October 12 at 6:00 p.m.
Dat Dog's Beer Gardens and unique menu of wieners and sausages make the beloved restaurant a convenient and authentic option for Uptown Oktoberfesting.
Dat Dog's Oktoberfest Special is a Traditional Bavarian Bratwurst (lightly smoked, thinly ground pork sausage) topped with sauerkraut and classic mustard on a specially made soft pretzel bun. Try it with a cold bottle of St. Pauli Girl, Warsteiner, Weihenstephaner, Aecht Schlenkerla Rauchbier Weizen or anyone of Dat Dog's other premium German beers. All German Beers are $1.00 off during Oktoberfest at Dat Dog.
Of course, Dat Dog's European-inspired beer garden (illuminated by strands of bulbs at night)  feels a little bit like Oktoberfest all year long.
The annual Oktoberfest Dog Show categories include: cutest dog, best trick, ugliest dog, best Oktoberfest dog and a dog/owner look alike contest. Winners will receive gift certificates and treats from Petco and Dat Dog. Registration for the dog show is free at datdog.eventbrite.com.
Dat Dog is located at 5030 Freret Street 
(504.899.6883
) and the new Dat Dog at 3336 Magazine Street near Louisiana 
(504.324.2226
). Open Lunch and Dinner 7 days. For more information about the Dog Show, visit Dat Dog's Facebook page or call 
504.343.6551
.