The city's only indie, black-owned bookstore, Community Book Center is turning the big 3-0.
Over the last three decades, the operation that Vera Warren-Williams launched in her parents' Lower Ninth Ward home has blossomed into a black literary hub hosting publishing world heavyweights such as Alice Walker, Octavia Butler, Dr. John Henrik Clark and Nikki Giovanni while serving as a home base to local authors like Dr. Gwendolyn Midlo Hall, Brenda Marie Osbey, Tom Dent as well as father-and-daughter writer pair: Kalamu ya Salaam and Kiini Salaam among others.
The name says it all. Community Book Center is grassroots to its soul. There's not another bookshop in the city where you can drop in to use the fax machine or Wifi, purchase hard-to-find, Afro-centric works like Colored Creole by Aline St. Julien and On to New Orleans!: Louisiana's Heroic 1811 Slave Revolt by Albert Thrasher or engage in earnest debates about literature – classic and contemporary – with colorful, well-read staff like long-time store manager Jennifer Turner, affectionately known as Mama Jennifer.
"I was a substitute teacher in the New Orleans Public School System and I was tired of not having any books or materials reflective of the African-American population in the schools," says Williams, 54. "I started bringing my own books into the schools and noticed how profound of an effect it had on students seeing faces that looked like them and seeing their own culture."
In 1983, Williams began making the rounds at flea markets, educator professional development workshops, festivals and book fairs. There was a huge demand for African-centered reading material both inside and outside of the classroom. The response was overwhelming. To keep up with demand, Williams opened a storefront a few years later for the venture she had largely run as a mobile enterprise; first on Poland Avenue later on Ursulines Avenue and now at 2523 Bayou Road, the location of the past 20 years.
Community Book Center has groomed generations of black readers in the city.  It's not uncommon for customers to come in and wax nostalgic about a childhood spent picking out books from the store and then as adults bringing in their children, and in some cases grandkids, to do the same thing.
For Williams, the bookselling business ain't been no crystal stair, and the road to 30 has been a hard-fought milestone. These days, you are lucky if you live in a neighborhood with a bookstore. You can count yourself as blessed if that bookseller is independently owned and not a big-box retailer. It's no easy task for brick-and-mortar bookstores to hold their own in a world increasingly gone digital given the rise of e-publishing and online book buying.
Mirroring national trends, sales have dropped in recent years at Community, and Williams says she is currently in the process of evaluating how to best move forward to ensure its ability to continue to serve New Orleans while sustaining itself as a business. But New Orleans presents its own challenge: The city's functional illiteracy rate is 44 percent.
According to the National Assessment of Adult Literacy, 66% of students who cannot read proficiently by the end of fourth grade will end up in jail or on welfare.
"Being a specialty store featuring African-American books is one thing, and having a specialty in a state with one of the highest illiteracy rates, that compounds the challenges. We can talk about literacy, but we really have to do it. Our children need to see us reading. Reading needs to become a family thing. Children are actors and imitators. They do what they see us do," says Williams, mother to an 11-year-old son, Ali, and married to Dr. Garry Williams.
"If they see you reading a book or magazine, they will mimic you. We have to set the example."
Also, Williams finds it disheartening that area schools don't think of the local bookstores first to meet students' book purchasing needs, and the same goes for book clubs and reading groups that may ask to use Community as a space to meet while buying their selections elsewhere.
"We talk about how we struggle to keep the tax base local and to buy local, but many of the schools still direct students to big box stores. Both Barnes & Noble locations are in Jefferson Parish. We have a number of independent bookstores in the city that could service the students, but schools are directing them to Metairie and I'm within walking distance," says Williams.
Community doesn't only cater to African-focused reading tastes. Trendy reads such as the Fifty Shades of Grey series and novels by James Patterson are also available there.
Challenges aside, the joy Williams has experienced over the last 30 years running Community makes it all worthwhile. She's sold more than books. She's blazed minds. She's provided the community a space to read about topics not taught in schools or discussed in the mainstream as well as exposed readers to more than the commercial writers of the day.
And even though Community is no longer affiliated with the high-profile Essence Music Festival, it was Williams who integrated the black book world complete with author signings and appearances during the Empowerment Series at the Convention Center into the festival. For a number of years, she also worked with the New Orleans Jazz & Heritage Festival.
"You can go and shop anywhere, but at Community we build relationships," Williams says. "People are not just our customers. They are friends, and they become an extension of our family."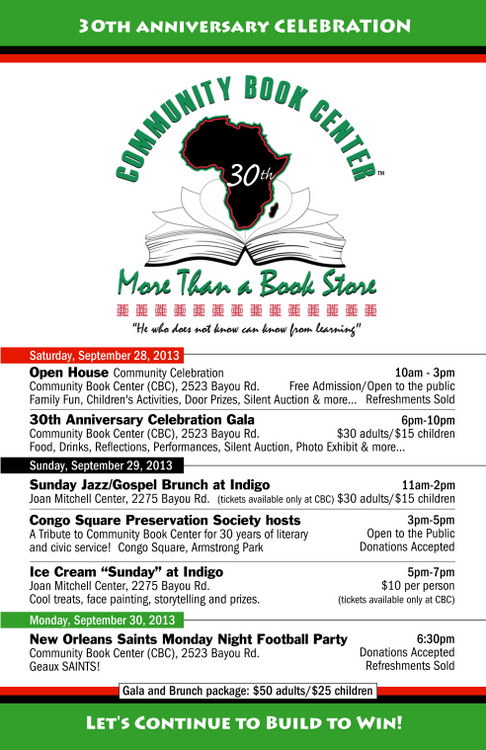 jewel bush, a New Orleans native, is a writer whose work has appeared in The (Houma) Courier, The Washington Post, The Times-Picayune, New Orleans Homes & Lifestyles Magazine, and El Tiempo, a bilingual Spanish newspaper. In 2010, she founded MelaNated Writers Collective, a multi-genre group for writers of color in New Orleans dedicated to cultivating the literary, artistic and professional growth of emerging writers. She is currently communications coordinator for Service Employees International Union Local 21LA. Her three favorite books are Their Eyes Were Watching God, The Catcher in the Rye, and Are You There God? It's Me, Margaret.