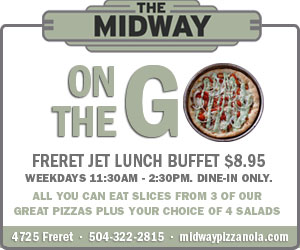 Midway Pizza on Freret Street has some new additions you should know about. The Freret Jet lunch buffet has new salad and pizza choices, the bar has some exclusive new cocktails, and there's more half-off pizza deals!
The Freret Jet Lunch Buffet
The Freret Jet is back: All-you-care-to-eat pizza and a salad every Monday thru Friday from 11:30am to 2pm. In addition to the house and caesar salads, the buffet now features two new salad options:
The BYT – mixed greens, roasted beets, fresh orange slices, toasted pine nuts and goat cheese tossed in citrus vinaigrette
Zeus' Plate – baby spinach, grape tomatoes, mushrooms, feta cheese, crispy prosciutto with a sun-dried vinaigrette
The Jet now has a broader variety of buffet pizzas, with premium toppings like ham, sausage, chicken, the works!
New Premium Cocktails
Let our bartender Chelsea cater to your tastebuds and sobriety with her specialty cocktails. These perfectly-crafted pieces feature juices by Beaucoup Juice right next door; it doesn't get more special than that.
Half-off Pizza Specials!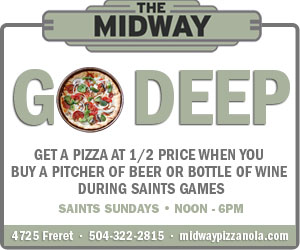 After 8pm on Mondays and Tuesdays, you can come and get any pizza half price with the purchase of a bucket of beer, a pitcher of beer, a bucket of ponies (high life or Heineken) or bottle of wine. Get the same deal on "Saints Sundays" from noon to 6pm when the Saints have Sunday games.
The Midway on Freret is still open late with new specialty pizzas, salads and more. Enjoy family, cocktails and wine. Come in and enjoy Freret Street.
Midway Pizza: Uptown's only Deepdish
4725 Freret Street || (504) 322-2815 Open Mon – Thu: 11:30 am-till Fri – Sat: 11:30 am-Midnight Sun: 11:30 am-Midnight
Stay in Touch! Twitter: @Midwaypizza || Facebook: Midway Pizza