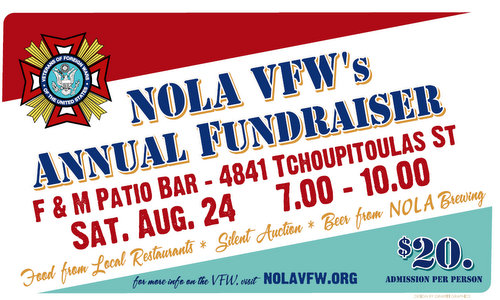 The New Orleans Veterans of Foreign Wars post on Lyons Street will have its annual fundraiser Saturday at F&M's Patio Bar, with a patron party ahead of time at the VFW hall.
The revitalized VFW post was the fastest growing in the state in 2012, drawing younger veterans from Iraq and Afghanistan with an eye toward community service.
The fundraiser will run from 7 to 10 p.m. at F&M's, 4841 Tchoupitoulas, with food from local restaurants and beer from NOLA Brewing, said post member Marshall Hevron. Admission is $20.
The patron party will run from 6 to 7 p.m. at the VFW hall, 531 Lyons, with food by Tableau and drinks provided by 12 Mile Limit and Cane and Table. Admission to the patron party is $125.