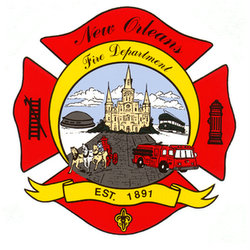 A Napoleon Avenue home under renovation was damaged by a midday fire Tuesday that started in the kitchen and spread to the attic, New Orleans fire officials said.
The fire was reported around 11:40 a.m. at 3836 Napoleon Avenue (near the corner of Fontainebleau), and the firefighters who arrived found heavy smoke coming from the attic and rear windows, according to a New Orleans Fire Departent news release.
"Firefighters feared that the fire would spread into the attic and basement areas of the home; therefore a second alarm was struck to protect the occupied houses on both sides of the fire," the report states.
A total of 14 NOFD units with 46 firefighters brought the fire under control by 12:18 p.m., and most of the damage was contained to the kitchen and the attic, the report states.
"Through investigation and interviews with the occupant, fire personnel were able to determine that the fire began in the kitchen and was the result of cooking," the report states.
No injuries were reported.